Email Marketer's Guide: What You Need to Know about Gmail

Email filters used by mailbox providers do a good job – they keep spam out of our Inboxes. But from the other side, "thanks" to spam filters, every fifth legitimate email never reaches the intended recipient.
What's more is that every mailbox provider uses its own filtering algorithm to distinguish good emails and spam. It makes it even harder for email marketers to deliver their emails to the Inbox.
Here we'll take the mystery off to make senders understand the filtering rules of the top three mailbox providers – Gmail, Outlook, and Yahoo!Mail – and help them send their legitimate emails to the Inbox.
The Part I of our Email Marketer's Guide is dedicated to Gmail.
Being the world's largest free mailbox provider, Gmail has a billion users. Thus, knowing how to reach the Gmail's recipients' Inboxes is crucial for marketers.
Unlike Outlook and Yahoo, Gmail is a closed-door provider in terms that it does not disclose its filtering rules or provide a lot of guidelines and support for email senders.
However, we will try to set you on the right path with what Gmail looks at and evaluates to make its filtering decisions.
Inbox Organization
In order Gmail users can sort and quickly find the messages, Gmail introduced the following categories in the Inbox: Primary, Social, Promotions, Updates, and Forums.
To sort incoming messages by these categories, Gmail uses an algorithm that analyzes everything from the email content to the recipient's feedback.
Gmail users can influence to which category the messages are sent in different ways:
1 Use the "Move to" drop-down menu or right-click on the message and select "Move to".
2 Drag and drop an email message into a different tab. Gmail will ask the user if they want all future messages from that sender to go to the selected tab. If the user clicks Yes, all messages from that sender will automatically be placed to the new tab. If no, the messages from that sender will continue landing under the original tab.
3 Star a message. The starred message, only that particular message, will show in the Primary tab.
Being helpful for users, Gmail's Inbox with categories adds an extra challenge for email senders trying to reach their Gmail subscribers. Like an email placed in the spam folder often gets unseen, a message not found where the subscribers used to see it can be missed.
To ensure your emails are placed in the correct category, follow these tips:
1 Send different types of messages (e.g., newsletters, promotions, transaction emails) from different sender email addresses and try to keep those sender addresses consistent over time.
2 Do not mix different types of content in one message. For example, adding a promotion to an account confirmation email may cause the message to be placed in Promotions.
Spam Filtering
To differentiate between good emails and spam, Gmail looks at the following things:
– User Engagement
– Email Content
– Sender Reputation
– Email Infrastructure
User Engagement
Engagement has a huge influence on the Gmail's filtering decisions.
For Gmail, the following user actions showing positive and negative engagement are important:
 read messages
 replied to messages
 starred messages
 moved to a folder messages
 not spam reports
 spam reports
 deleted without reading messages
Gmail looks at two types of engagement: a user's engagement with emails from a particular sender (sender domain) and the general user's engagement with their mailbox.
Users who interact with emails from a domain regularly are more likely to get messages from that domain placed in the Inbox. And users who frequently interact with their mailbox in general receive more messages in their Inbox than other users.
It's important to understand the correlation between these two measures of engagement. Users who are less engaged with your emails than with the rest of their mailbox may have fewer of your messages delivered to the Inbox, even if you consider them an engaged recipient.
Email Content
Email content is always checked by spam filters but how much attention it is paid to typically depends on the reputation of the sender.
Spam filters check everything: headers, body, attachments, HTML code, images, URLs, spam keywords, malware, viruses, spam HTML tags etc.
With the GlockApps spam test, you can check your content with Google Spam Filter, Barracuda, and SpamAssassin. While Barracuda and SpamAssassin give a detailed report about how the spam score is calculated, the Google Spam Filter returns "Spam/Not Spam" and "Phishy/Not Phishy" without any details.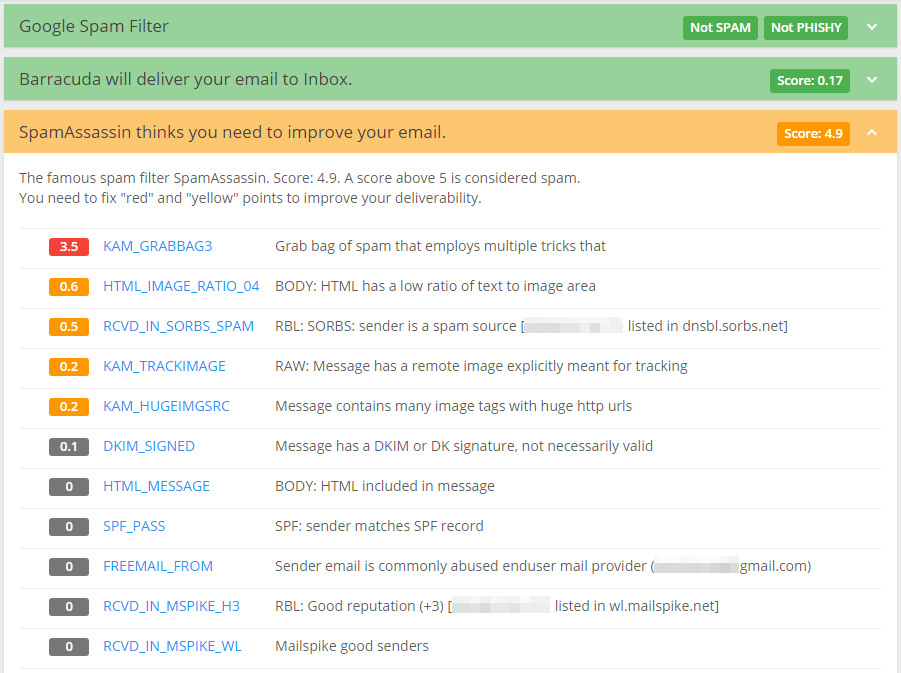 While an email marked as spam by the Google Spam Filter does not necessarily go to spam, it can make a difference in the email placement if other issues like missing email authentication and/or bad sender reputation are observed.
Sender Reputation
The reputation of the sender IP and domain is another key factor that Gmail takes into account when filtering emails. The sender reputation is connected with the user engagement. The more positive actions the user takes on the messages from a domain, the higher the reputation of the domain and the more emails from that sender go to the Inbox.
If your emails consistently land in the Gmail's spam folder, create a Google Postmaster account and check your sender domain and sender IP reputation.
Although spam filtering decisions are made based on a lot of factors, the domain and IP reputation allows to have a sense of whether or not your emails could be filtered as spam.
Gmail assigns the reputation to a domain and IP based on the volume of spam sent from a domain and IP. "Spam" in this context includes emails detected as spam by Gmail's Spam filter, and emails reported as spam by Gmail users.
According to the Google Postmaster Tools, the classification of the reputation is:
Bad — A history of sending an enormously high volume of spam. Mail coming from this entity will almost always be rejected at SMTP or marked as spam.
Low – Known to send a considerable volume of spam regularly, and mail from this sender will likely be marked as spam.
Medium/Fair — Known to send good mail, but is prone to sending a low volume of spam intermittently. Most of the email from this entity will have a fair deliverability rate, except when there is a notable increase in spam levels.
High — Has a good track record of a very low spam rate, and complies with Gmail's sender guidelines. Mail will rarely be marked by the spam filter.
Gmail is careful about emails sent from IPs without a reputation. Gmail blocks new IP addresses for the first two to 24 hours, then delivers emails in small amounts to both the Inbox and the spam folders to see the subscriber's reactions.
If a lot of complaints happen, future emails from that IP will be delivered mostly to spam. If more people click "this is not spam" during this period, it means that the email is safe to be delivered to the Inbox.
To get a reputation for an IP, start a warm-up process by sending emails to the verified and most active subscribers. This segment could include people who have opted-in most recently and who are consistently opening/clicking your messages.
The more consistently you send and the lower your complaint and bounce rates during the warm-up period, the faster you will establish a positive sending reputation. If you send infrequently, it will take longer to build a positive reputation.
---
How to Warm up an IP Address
Read this 11-page whitepaper to learn why and how to warm up your new IP
and make sure you're doing it right.
---
Email Infrastructure
Senders with the proper email infrastructure have more chances delivering their messages to the Gmail's Inbox than senders with a poor email setup.
The email infrastructure includes the configuration of the sender IP, domain, and authentication.
To make sure that your emails are not filtered as spam because of a technical issue, it is recommended that you:
1 Send from the same IP address(es).
2 Send each type of mail from a consistent domain.
3 Set up valid rDNS for sending IP addresses pointing to your domain.
4 Set up DKIM, SPF, and DMARC email authentication.
You can test your DKIM and SPF authentication by running a spam test at GlockApps.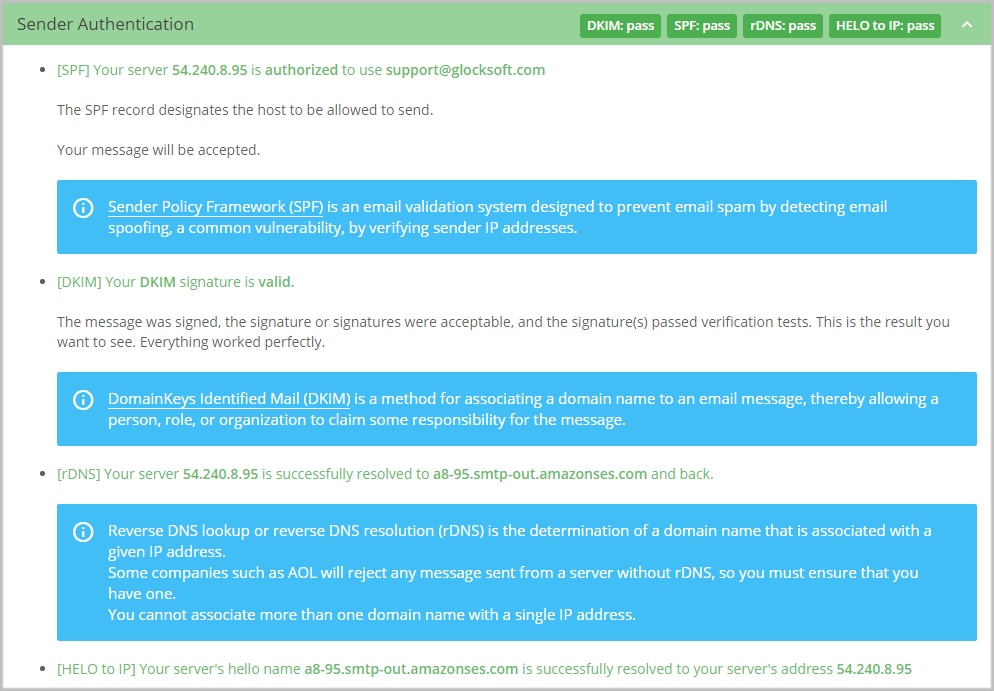 Whitelists and Blacklists
Gmail does not maintain their own whitelist, nor do they rely on any third party whitelists.
Gmail does not advertise the use of any public blacklist but it may use signals from Spamhaus.
Here you can read more about why Google can block you and how to get unblocked.
Useful Links
The resources below can help you follow best Gmail's email practices and troubleshoot deliverability issues with Gmail:
Bulk Senders Guidelines. Read through the guidelines to learn more about the spam classification, email authentication, subscription and unsubscription, and email delivery to Gmail users.
Google Postmaster Tools. In order you can access the information about your sender domain, you need to add and verify your authenticated domain. Once it's verified, you will be able to access several dashboards: Spam Rate Dashboard, Domain and IP Reputation Dashboard, Feedback Loop Dashboard, Authentication Dashboard, Delivery Errors Dashboard.
Gmail Feedback Loop. Gmail does not offer a traditional FBL service when a complaint report is sent in the ARF format to the sender. Gmail requires a sender to embed the Feedback-ID header, consisting of unique parameters that identify their individual campaigns. The information about spam rate will be then available in the Google Postmaster Tools.
How to Improve Delivery to Gmail Inbox. Here you can find real tips for getting your emails into the Gmail's Primary tab.
Gmail Puts Emails to Spam. How Can I Fix It? From this post, you can learn how to find out why Gmail sends your emails to "Spam" and fix the spam folder placement issue.
GlockApps Spam Testing for Marketers and Agencies
Test your email placement
Scan your emails through all the major spam filters before you send them.
Improve your deliverability
Get actionable tips for improving the delivery rate of every email you send.
Increase your revenue
Improve your overall email performance by delivering more emails to the inbox.