How To Remove Your IP From Yahoo Blacklist – Yahoo Blacklist Checker

Can't send emails to Yahoo subscribers? It's highly possible that your sending IP address was blacklisted by this provider.
Users of Yahoo, Google, Hotmail, and other major mailbox providers are often victims of spammers. Mailbox providers are forced to introduce filters and blacklists to protect their users from unsolicited emails.
Why Yahoo Can Reject Your Email
Yahoo does not disclose specific information about their email filtering practices. But like most mailbox providers, Yahoo looks at the sender's IP reputation to decide if an email should go through and where it should be placed.
Here are the factors that impact the sender reputation:
IPs listed in Spamhaus and other spam databases
Bounce rates
Complaint rates
Spam trap hits
Changes in email volume
User engagement
Typical behavior that leads to blacklisting issues is:
– Compromised user accounts used to send spam.
– Bulk emailing from mailing lists, newsletters, forums and blogs (even if they are opt-in).
– Bulk emailing to unconfirmed subscribers.
– Bulk forwarding of spam emails to Yahoo users.
The last one is often overlooked. If you forward an email to a Yahoo address and you then mark it as spam, Yahoo will penalize your server. This problem is often seen with shared hosting servers. Some users may just forward all of their emails to Yahoo. These are often junk accounts that receive tons of spam messages.
Yahoo Blacklist IP Check
Unlike public blacklists, there is no way to do a quick Yahoo blacklist IP check. To find it out, you can run an email deliverability test with GlockApps. If Yahoo blocks your IP and rejects the message, the email placement result is "Undelivered."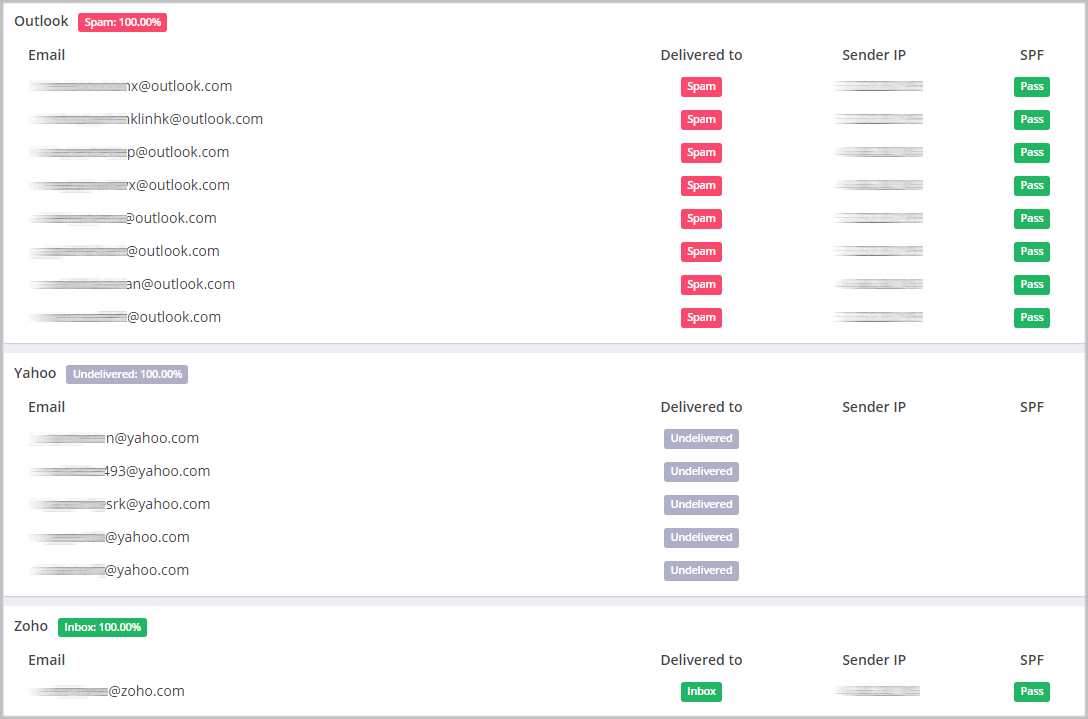 Typically, when Yahoo blocks the IP, you receive a bounce message with the following error codes:
421 4.7.0 [TS01] Messages from <1.2.3.4> temporarily deferred due to user complaints
<1.2.3.4> ;see http://postmaster.yahoo.com/421-ts01.html
or
553 5.7.1 [BL21] Connections will not be accepted from 1.2.3.4,
	because the ip is in Spamhaus's list; 
see http://postmaster.yahoo.com/550-bl23.html
Check this list of Yahoo's SMTP Error Codes so you know exactly why you are unable to deliver emails:
| SMTP Error | Diagnostic Error Message | Description |
| --- | --- | --- |
| 421 | 421 Message temporarily deferred – [numeric code] | The message content contained objectionable content, we're seeing unusual traffic from your servers, or emails from your mail server are generating complaints from Yahoo Mail users. |
| 421 | 421 4.7.0 [TS01] Messages from x.x.x.x temporarily deferred due to user complaints – 4.16.55 | We're seeing unusual traffic patterns from your server. |
| 421 | 421 4.7.0 [TS02] Messages from x.x.x.x temporarily deferred due to user complaints – 4.16.55 | We're seeing unusual traffic patterns from your server or your mailings are generating complaints from Yahoo Mail users. |
| 421 | 421 4.7.1 [TS03] Messages from x.x.x.x permanently deferred. Retrying will NOT succeed | We're seeing a high volume of e-mails from your server that are indicative of unsolicited mailings. |
| 451 | 451 Resources temporarily not available – Please try again later [numeric code] | This error indicates that our servers were busy and temporarily unable to process your transaction at the time of connection. |
| 451 | 451 VS1-IP Excessive unknown recipients – possible Open Relay (#4.1.8) | Your mail server is configured as an open relay or proxy. |
| 451 | 451 VS1-MF Excessive unknown recipients – possible Open Relay (#4.4.5) | The senders MAIL FROM address has been sending to excessive bouncing accounts (non-active, don't exist). Review your mailing lists, and remove any addresses that generate bounces. |
| 553 | 553 5.7.1 [BLXX] Connections not accepted from IP addresses on Spamhaus PBL | The sending IP is listed on a Spamhaus blacklist. You can check your status on Spamhaus' site |
| 554 | 554 Message not allowed – [numeric code] | Your emails have become deprioritized due to the message content triggering our filters. We ask that you review the email's header and message content for potentially objectionable content. |
| 554 | Delivery error: dd This user doesn't have a yahoo.com account (******@yahoo.com) [-5] – mta1126.mail.gq1.yahoo.com [BODY] | The Yahoo account that you're trying to send to doesn't exist. We recommend that you contact the recipient directly to confirm their correct email address. |
| 554 | 554 5.7.9 Message not accepted for policy reasons | Your message wasn't delivered because Yahoo was unable to verify that it came from a legitimate email sender. |
How to Delist IP from Yahoo Blacklist
If you did a Yahoo blacklist check and found out that the IP was on the Yahoo blacklist, you have to fix the reason before you try to get off Yahoo blacklist. Start by analyzing your server to make sure your DNS settings are in order:
Reverse DNS resolves to a hostname.
SPF is valid.
DKIM is working properly.
The hostname has an A record.
DNS is one of the most critical elements in email delivery, so always check and fix DNS issues as they could be why your emails are rejected in the first place.
If you have found the problem, wait. In many cases, the block is removed in under 48 hours. If it's not, you can move further and make additional steps to get off Yahoo blacklist.
1. Get Removed from Spamhaus
Yahoo uses Spamhaus. Make sure your IP is not listed there. If it is, you need to request removal from Spamhaus before you contact Yahoo.
You may find that once you are removed from Spamhaus, Yahoo will start delivering your emails again.

2. Complete Yahoo Sender Form
No matter how many emails you send, you will need to complete the Yahoo Sender Form.
Though some fields are optional, it is recommended to provide as much information as possible, especially, in the "Additional information" area.
You will want to explain in 2-3 sentences what you did to fix the reason for email rejections. Keep it short and technical. The Yahoo postmaster staff receives a hundred of requests daily, so being short and to the point helps get removed from the Yahoo blacklist.
Visit the Yahoo postmaster page to find more information about the Yahoo best email standards and deliverability troubleshooting tips.
Read also:
How to Remove Your IP Address from Gmail's Blacklist
How to Remove Your IP Address from the Hotmail/Outlook's Blacklist
GlockApps Spam Testing for Marketers and Agencies
Test your email placement
Scan your emails through all the major spam filters before you send them.
Improve your deliverability
Get actionable tips for improving the delivery rate of every email you send.
Increase your revenue
Improve your overall email performance by delivering more emails to the inbox.