Why we created GlockApps.
For many senders, email delivery is a real mystery. They don't know when their emails get blocked or filtered, why it happens and what to do about it, and continue sending emails blindly losing revenue. Certainly, most of the time these people send permission-based emails which are often not delivered to the intended recipients.
So we thought, what if we built a deliverability and spam testing tool in one place?
Thus, GlockApps was born out of the need to diagnose email deliverability problems, which so many people struggle with. We created GlockApps to make it easy for every marketer to test and monitor their email placement over time and know what to do to fix problems before the emails are sent out to subscribers.
We also created a free spam test that shows the deliverability through three popular email service providers and allows the user to compare Inbox rates and see how the reputation affects deliverability.
How we measure deliverability for different ISPs.
Email delivery testing works like this:
We give the user the test ID and a list of email addresses across the top ISPs (Gmail, Hotmail, Outlook, Yahoo, AOL and others). It is called a seed list. The user adds the test ID to the message and sends the message to the seed list. For accurate results, the user needs to send the email they want to test using their email service provider or email server they used to send emails through as the sender reputation matters.
We show them delivery results in real-time for each seed list account. The user sees whether their email landed in the Inbox, the Spam folder, Gmail's Promotional or Social tabs, or was never delivered at all.
We also test authentication records SPF and DKIM, sender IP address reputation, sender score and message spam score. We give the detailed report about what elements in the email increase the spam score.
With all that information, the user is able to determine breaches in their email program that worsen Inbox deliverability and that must be addressed.
Our integrations.
We integrated our spam testing tool with MailChimp to allow the MailChimp users to easily test their email campaigns directly from GlockApps.
We integrated the GlockApps Bounce Monitor module with Amazon SES, SparkPost, SendGrid and Mailgun for bounce email tracking and collecting bounce email analytics.
If you have any questions or require assistance, email us at support@glocksoft.com
About Us
G-Lock Software is a privately held company working in different programming environments. Our team has over 10 years experience of developing email marketing solutions and has used that knowledge and experience to create innovative, flexible, and affordable products that are used by thousands of businesses, large and small, in all parts of the world.
Alex Markov is the CEO and owner of G-Lock Software (GLOCKSOFT LLC). Dmitry Vladyko is COO and co-founder. Headquarters are located in Minsk, Belarus.
Our company is proud to join an annual listing of 10 companies that are at the forefront of providing MarTech Solutions and transforming businesses. Read the full article on CIOApplications.com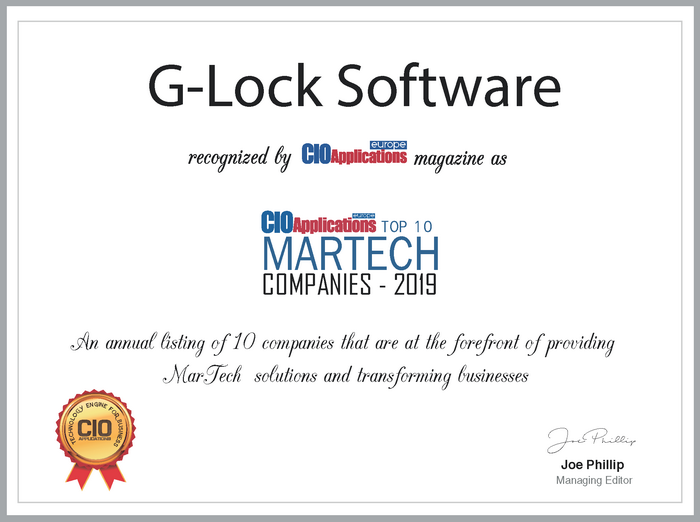 All G-Lock Software products:
G-Lock EasyMail7


An email newsletter is one of the most convenient and easy ways to keep in touch with your clients and prospects. G-Lock EasyMail7 is a safest, PRIVATE and SECURE in-house email marketing solution that eliminates the complexity and expense of operating a third-party email service. G-Lock EasyMail are used by thousands of businesses, large and small, in all parts of the world. Read more about G-Lock EasyMail7
---
G-Lock Apps
A seedlist-based Inbox Placement test and IP reputation monitor. It determines how your email is placed across major ISP, at what Gmail tab your email is delivered and what ISP blocked your message. Plus, it verifies the sender authentication such as DKIM and SPF, checks the email against spam filters, tracks email delivery duration and tests your IP against 74 of the most common blacklists to diagnose and solve deliverability issues for continuous deliverability. Read more about G-Lock Apps
---
G-Lock Analytics

Email tracking service which helps you understand what happens to your email after it is sent. Track who opened your email and clicked the links inside the email, who printed and forwarded the message and who unsubscribed. Plus, you can track which email clients your recipients use to open your messages and save time for email design. All reports are provided to you in real time! Read more about G-Lock Analytics
---
G-Lock Email Processor

Automatic email parser and data extractor. G-Lock Email Processor can filter incoming messages, extract any data from the message body, header, and text attachments and save the data to a file, or database. Using this tool you can handle purchase orders, messages sent through web forms, bounced, subscribe and unsubscribe emails and any kind of messages of a specific format. Read more about G-Lock Email Processor
---
Advanced Email Verifier

Many ISP mail servers have been known to block a sender's email domain for repeated sending messages to non-existing email addresses. Using the Advanced Email Verifier you can keep your contact lists "clean" on a proactive basis which means you protect your email server domain from getting blacklisted and increase your email campaigns performance. Read more about Advanced Email Verifier
---
Newsletter Plugin for WordPress

With WPNewsman you can easily add double optin forms in widgets, articles and pages, import and manage your lists, create and send beautiful newsletters directly from your WordPress site. You get complete freedom and a lower cost compared to Email Service Providers. Free yourself from paying for expensive email campaigns because everything you need is right here. Read more about WPNewsman newsletter plugin
---
European Reseller
2Checkout (Avangate B.V.)
Prins Hendriklaan 26 II, 1075 BD
Amsterdam
The Netherlands
+31 20 890 8080