How to Land in the Gmail's Inbox After the Latest Security Update

In an attempt to protect users from spam, phishing emails, and other malware, Gmail implemented a new security mechanism that identifies potentially harmful messages from unauthenticated senders and warns users about them.
This update will help Gmail's users differentiate messages received from legitimate marketers and malicious senders, prevent phishing attempts and keep spam out, ultimately freeing up Inboxes for good emails.
While some email marketers are concerned that after this Gmail's update their emails have more risks to be labeled as spam, for most legitimate marketers, Gmail's new update will only favor good business-to-consumer relationship.
The benefits of this security update are only available to those senders who follow best practices and comply with the Gmail's standards.
Here is a good Gmail spam checker that you can use to test where your email lands at Gmail: Primary or Promotions tab in the Inbox, or Spam folder.
To avoid sending unauthenticated messages to Gmail users and ensure the Inbox placement, consider these five best practices:
1. Improve List Hygiene
Good list hygiene is important for maintaining a steady presence in the customer's Inbox. For better data hygiene, start from the collection method. If a sales representative is collecting buyers' email addresses in the store, make sure to verify collected emails for better accuracy.
Use a desktop email verifier like Advanced Email Verifier or online email verification services like BriteVerify, DataValidation, QuickEmailVerification, TowerData, and others. Do a Google search and you'll get dozens of sites to choose from.
If you collect email recipients online, use confirmed opt-in forms to reduce entry errors and false subscriptions. This ensures people are choosing to receive emails from your brand rather than being forced to do it.
Read: Email Marketer's Guide: What You Need to Know about Gmail
In addition to opting in, give your subscribers an easy way to remove themselves from your mailing list, too. You could set up an instant unsubscribe process or a two-step process with the confirmation.
2. Cut the Dead Wood
List hygiene is not limited to email collection and unsubscribe email handling. It also involves tracking of bounce-back emails, complaining users, and inactive recipients. These have a direct impact on your sender reputation.
The more emails you send to invalid, complaining, and inactive users, the more your reputation goes down and the more emails start landing in the spam folders. Thus, you should have a process of handling returned messages and FBL reports.
If you are using an email service provider, they take care of this aspect of email marketing for you. But if you are using your own mail server or have an account with an SMTP relay service, it's important that you set up a bounce handling tool.
Consider tracking your recipient's activity, too, to identify inactive subscribers quickly. You could send a couple of re-engaging emails to people who had not opened any of your emails during the last six months, for instance. Remove those who do not act on re-engaging emails.
3. Be Wanted
Making your email wanted is the key to a successful email campaign.
Nowadays, email recipients have greater control of their mailbox and mailbox providers learn from their experience. Reporting emails from a particular sender as spam means all future mailings from that sender will be moved to the spam folder.
Thus, it is essential to ensure that your email subscribers actually want to read your messages. Relevance and personalization are crucial.
By focusing on your subscriber, you'll be providing a more relevant content, win their time and attention, and benefit from a positive user experience and better deliverability.
Read: Bounce Email Analytics: Diagnose and Fix the Issues Impacting your Deliverability
4. Say "No" to Promotion
Although the user engagement beats the content in the modern email marketing, the content still makes a difference and should not be written off. In particular, the content still matters when Gmail decides whether to put your email in the Primary or Promotions tab.
Our recent case study showed that even a few words could make a difference. We made a dozen of spam tests to determine why a simple message without a fancy design consistently landed in the Gmail's Promotions folder.
When we changed the unsubscribe text from "Unsubscribe from this mailing list" to "Unsubscribe", we got it to the Primary tab!
Email spam filters are zealous towards a heavy advertising and promotional stuff. For example, the Barracuda email spam filter will block your email altogether if it gets a high spam score.
With that said, the point is to put a fancy HTML template away and create a personal simple email message leaving images, links, and all promo content on the web.
You could create a beautiful web page with your logos, images, call-to-actions, links, and ads and include the link to that page into the email. Add some text inviting the recipient to click the link and read the full post.
5. Improve Your Sender Reputation
Constant monitoring of the sender's reputation is crucial. There are always ways to improve for better deliverability. Check the list below and make sure you are following these rules.
Authenticate your emails. Implement SPF, DKIM, and DMARC to assure the safety and legitimacy of your emails;
Maintain a healthy mailing list. Never purchase lists, use double opt-ins, get rid of inactive recipients, check if address names are correct;
Use relevant content. Make sure that your emails are what your recipients expect them to be. To increase content relevance apply targeting for specific segments of your audience.
Be consistent. Irregular sending volumes and inconsistent unscheduled emailing will result in bad IP reputation. Also, if you send emails very rarely, your recipients might forget they have been subscribed and will simply mark your messages as spam.
Continue reading: Everything Email Marketers Need to Know About Sender Reputation
6. Always Run an Email Spam Test before Sending
Writing emails and not knowing where they will land makes no sense. You might be writing great content, but sometimes you are simply unaware of certain mistakes you are making that result in missing the Inbox folder altogether. Sending emails that end up in the spam folder over and over again will only lower your reputation and decrease deliverability. Spam test evaluates the content of your emails and provides important information on how your message will actually be filtered.
GlockApps is an email spam tester service that provides you with a detailed report on how your email is placed at dozens of major ISPs and shows you the problem elements in your email content and sending infrastructure that must be fixed.
In addition to that, it makes spam filter tests with Google Spam Filter, Barracuda and SpamAssassin, and IP blacklist check.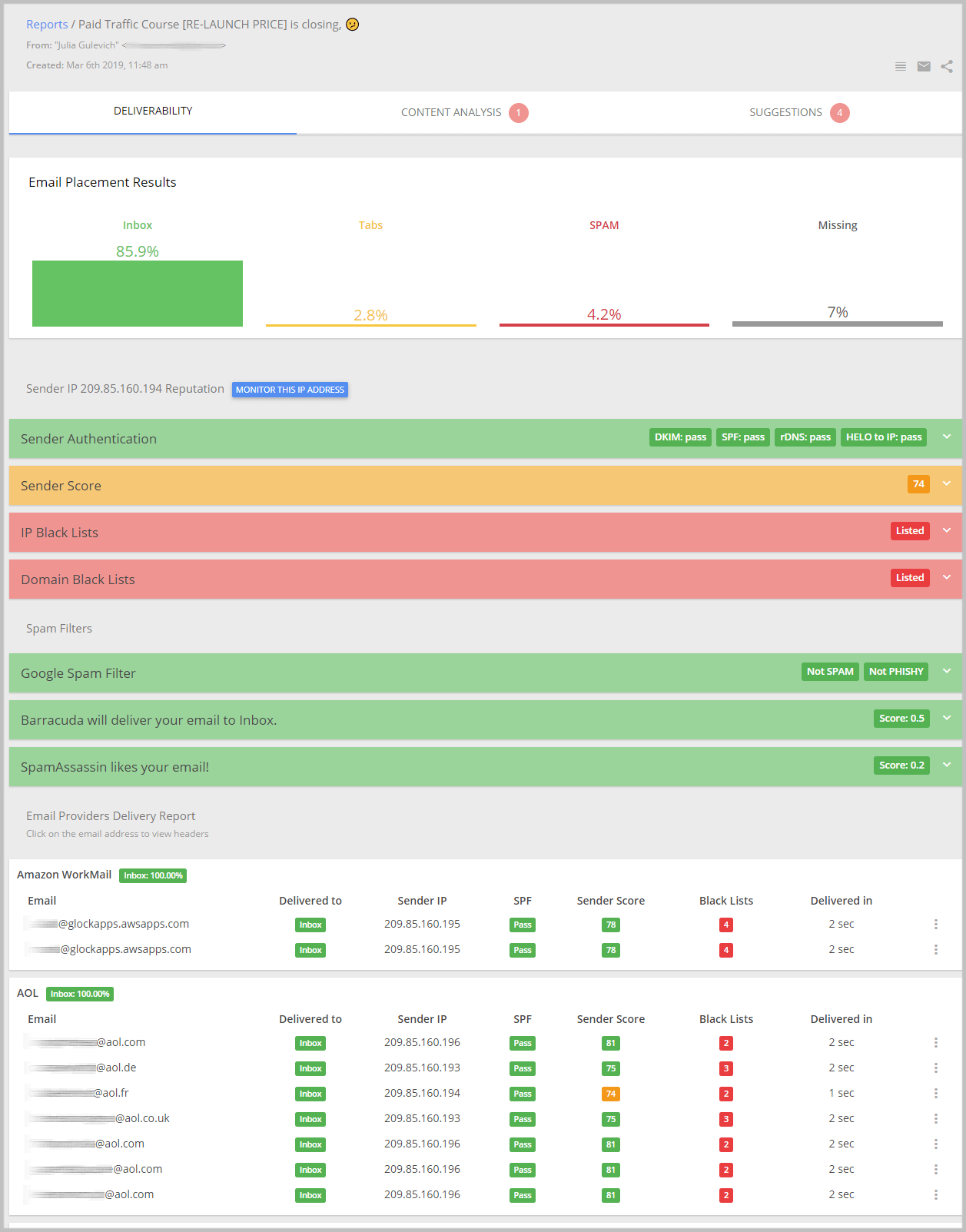 You can try it yourself and send a GlockApps spam test now following the steps in this guide.
The beauty is that the GlockApps email spam checker can automatically make recurring tests and send you an email alert when your Inbox rate drops below the chosen threshold. This could be useful for testing messages of a high importance like transactional emails, order confirmations, account activations, etc. and ensuring the customers receive them on time and to the Inbox.
7. Monitor Deliverability (Regularly!)
The bad news is that deliverability is a fickle "lady". Thus, marketers need to keep a constant eye on their deliverability rates. You can't afford to test your email once and sit calmly if you don't have deliverability problems.
The situation can change anytime. One day you can send your email campaign and find out that your open rate dropped from 50% to 5%. Poor Inbox deliverability could just be the reason.
Read: IP Blacklist Check and Removal: Ultimate Guide to Blacklists
To determine deliverability issues on a proactive basis and be able to fix them before you start a new campaign, it's important that you monitor your email spam score, sender score and Inbox placement on a regular basis.
8. Be Aware of Gmail's New Features
Keep your hand on the pulse. Staying in touch with updates, changes and new features will secure your emailing practice from having setbacks.
It is especially important since Gmail takes up a big chunk of the market. Even though it might be frustrating at first, making changes in a timely manner gives you advantage over your competitors and secures messages from ending up in the spam folder.
9. Personalize Your Email
Remember that you are sending messages to real human beings, and generic letters aren't working for a long time now. The level of personalization can differ, but it is important to use it to the fullest.
When a person subscribes to your email, he/she usually provides extra information like age, location, etc. Use this information to make emails more personal: address the person by the name in a subject line or in the beginning of the email; send the email according to the person's time zone, always consider time difference.
Knowing information about age, gender, geographical location, occupation, and other, also gives you a great opportunity to segment your audience, target specific clients with specific information that will be relevant to them. This tactic will also reduce the number of complaints and emails being marked as spam.
Lastly, ask questions to find out your subscribers' preferences. This will show your personal interest in their opinions and desires and at the same time will provide you with essential information to create valuable content.
10. Send Valuable Content to Your Subscribers
Interacting with your recipient is always a two-way street: if your ultimate goal is to increase ROI, you have to give something to your subscribers as well, not just fill their emails with generic letters to convince them into buying from you.
Knowing how to provide valuable content is a part of email personalization that requires some deeper digging and analysis. As previously stated, don't hesitate to ask recipients to share some of their information, this time go beyond basic questions: ask what content would they like to receive? Do they like some particular email format?
Valuable content can look like a series of educational articles, how-to videos, or product-related information. Your email should provide help or solution to the client's problem. The most important question you should ask yourself before sending a letter is: 'What will my subscribers get out of it?'
Sending valuable content is the only way to keep long-term relationships with your subscribers.
Gmail's new update is only a part of a campaign to protect email recipients from the onrush of spam. As more and more brands compete for a place in the recipients' Inboxes, we should expect more rules that protect email users.
But again, higher security standards should not trouble email marketers that follow the best email marketing practices. Senders that stick to delivering targeted and relevant messages will always be beyond the curve as more security regulations are introduced.
Read also: