12 Questions You Should Be Asking If You Have Deliverability Issues

Email marketing is the most convenient means of reaching new and existing customers and subscribers throughout the year. Companies and online marketers can send email marketing campaigns to introduce their products and services, showcase new features, promote their blogs, and give exclusive offers to re-engage customers who haven't been active in a while.
But with increasingly advanced filtering systems, more than 20 percent of legitimate marketing emails don't reach the recipient's Inbox, and marketers need to take the steps to diagnose and solve the problems to send successful email marketing campaigns.
The tools like this email spam checker will test your reputation, authentication, spam score and deliverability and show you how different mailbox providers treat your email and where they place it: to the Inbox or Spam folder.
If you're an email marketer who is experiencing problems with email deliverability, here are the top nine questions you should be asking yourself to discover what's causing the issues:
#1. What's my sender reputation?
The deliverability of your email marketing campaigns depends heavily on your sender reputation. Mailbox providers monitor many things to decide whether or not to block certain emails, and your sender reputation is one of the evaluated factors.
With a poor sender reputation, you're minimizing your chances of reaching the Inbox. And a good sender reputation increases your Inbox placement potential and will beat any content issues if they exist.
The bad news is that your sender reputation requires constant monitoring, as it can go down at any time. These websites can help you measure and monitor your sender reputation over time: Sender Score and SenderBase.
If one day you observe that your sender reputation is not as good as before, it's time to find out what could be the cause and fix it!
You can read about the factors impacting your sender reputation here:

Sender Reputation: How to Avoid Spam Folder Placement
#2. Did anyone complain about my email?
Complaints are very dangerous for email senders. They indicate that you're doing something wrong and your recipient decided to alert you about it. As a rule, email marketing practices teach us to suppress complained recipients from the active mailing list.
To help you identify the recipients who complained, Internet service providers introduced a feedback loop service. Once you sign up for feedback loops, the ISP will send to you email messages that were reported as spam to your email account that you've set up specifically for feedback loops.
The information that you will receive is a copy of the message including the header and body of the message that the complaining subscriber received. Now, you can collect any information you want from this message. At the very minimum, you should extract the recipient's email address so that you can add it to the suppression list.
The bad news is that sometimes mailbox providers reduct the recipient's email address from the message sent back, so you should find another way to identify the recipient based on the message. This can be done through tracking links in the body or subscriber identifiers in the header if they are put in place.
If you have an account with Hotmail, it's a great idea to sign up for Microsoft's Smart Network Data Services (SNDS). SNDS will give you the information about the traffic originating from your IP address such as the volume of sent emails and complaint rates. The data is collected from the log files of the inbound Hotmail servers and other servers at Hotmail and Microsoft.
This free service will help you identify campaigns resulting in excessive complaints and spam trap hits. You can then use this information to determine the cause of issues and take the appropriate action to correct the problem. You can get your Hotmail and Outlook.com SNDS report here.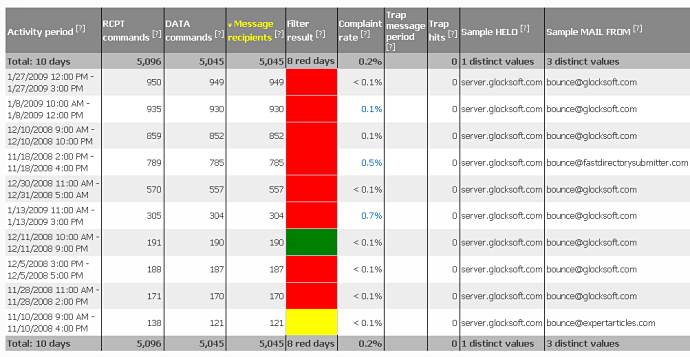 #3. Is my email relevant to the recipient?
The good idea is to set appropriate expectations regarding the content of your emails and sending frequency during the subscription process, and then meet those expectations.
If you send too much, or if the content doesn't meet their expectations, your recipients are likely to mark the email as spam.
Conversely, if you send so infrequently that your list goes "cold", they may forget that they subscribed for your emails and report them as spam.
Thus, if you are receiving complaints, you'll want to take a thorough look at what you're sending and to whom you're sending it. Make sure you send emails that are actually relevant to the interests of your subscribers. This will reduce the number of complaints.
If you are not sure what content would be more relevant to the recipients', just ask them. Send a message and include possible topics for people to choose from. This will provide you with important insights and also will show your audience that you care about their opinions and desires.
#4. Is my IP on the blacklist?
If your messages generate a lot of complaints, you may be put on a blacklist. If it happens, you'll experience big issues with delivering emails to your recipients.
There are a lot of blacklists, but you can start from checking your sending IP against the most popular blacklists like Spamhaus, Spamcop, SURBL, Barracuda Reputation Block List, and MultiRBL.
You can use the GlockApps IP reputation monitor to check your IP address against dozens of blacklists and be notified via email if a listing is observed.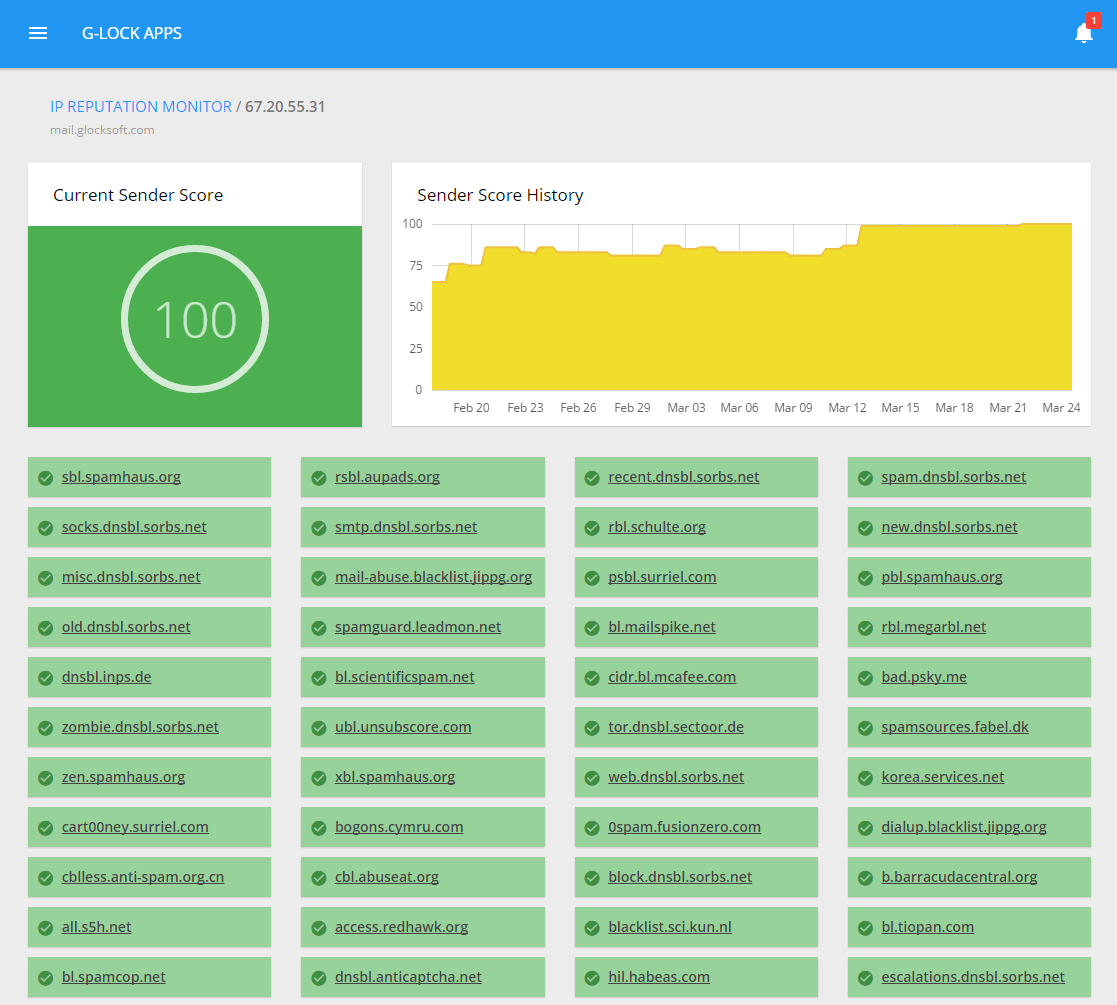 If you find your IP blacklisted, take the time to identify and resolve the root problem that caused you to be blacklisted and then submit a delisting request.
If you do not resolve the problem, you'll be listed again, and over time your delisting requests can be rejected.
Besides public blacklists, your IP can be blocked by a particular mailbox provider. Mailbox providers are forced to introduce filters and blacklists to protect their users from unsolicited emails. Gmail, Hotmail, Yahoo and other providers maintain blacklists of IPs seen to send spam to their users. IP blacklisting is often the real problem that prevents your emails from reaching target recipients.
Below are good guides you'll want to check to learn how to find out if your sending IP is blacklisted and how to request the removal:
How to Remove Your IP Address from Gmail's Blacklist
How to Remove Your IP Address from the Hotmail/Outlook's Blacklist
How to Remove Your IP Address from the Yahoo!'s Blacklist
#5. Where did my email marketing list come from?
If you have obtained or purchased a list on the web, don't be surprised about low deliverability, spikes in bounce rate, and increased spam complaints.
When you buy an email list, you are not aware of the recipients you're sending to. Some of the addresses can easily be spam traps, specifically designed by ISPs, or anti-spam organizations to catch spammers.
Another negative aspect of buying an email list is that your recipients don't know about your brand, they don't expect a letter from you, and the message could be simply irrelevant to them. Of course, they will mark it as spam and write a spam complaint.
When you grow your email list organically, you only include people who are genuinely interested and will be highly engaged with your emails. Organic growth might be slower than buying a list, but it will be more efficient and profitable.
#6. Are my emails authenticated?
Email authentication allows the mailbox provider to confirm that the sender is the one who he pretends to be and thus allows to protect the sender's domain from spoofing and fishing.
Authentication helps you build your domain reputation, reduces the chances of the emails being filtered or blocked by mailbox providers and increases the Inbox potential.
For more information about email authentication, read this post: Email Authentication: the Ultimate Guide.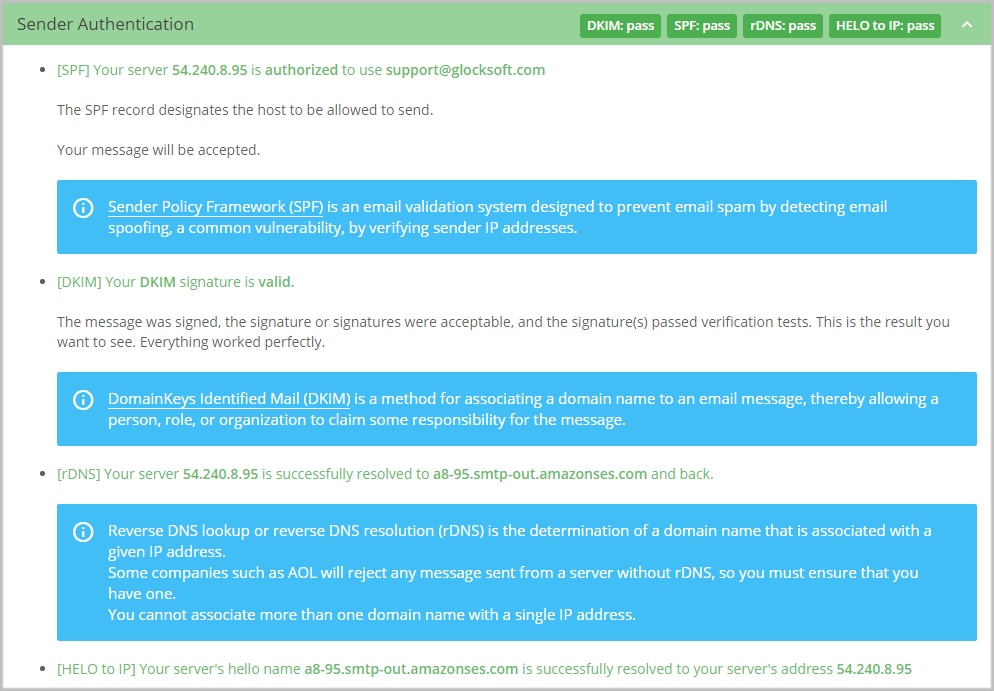 If you are using an email service provider, they care about authentication for you. If you are using an in-house email system like EasyMail7 with your own email server, you have to implement authentication records such as SPF, rDNS, and DKIM yourself.
In addition, delivery services like Amazon SES, Mailgun, SparkPost, and others require users to set up SPF and DKIM authentication records for better deliverability. As a rule, users are provided with instructions on how to set up the authentication records, so be sure to complete this step if you plan to use a delivery service for your email campaigns.
#7. Is my new sending IP "warmed up"?
The reputation of your sending IP is a part of your sender reputation which is built over time. Whether or not your emails are delivered to the Inbox is determined by your sender reputation. But what if you're starting with a new IP?
There is no sending history from your new IP address, and when you start sending, mailbox providers have no way of determining your reputation which means your email deliverability could be unpredictable for a while.
Thus, you have to start slowly building the reputation of your new IP. In email marketing, this process is called "warming up an IP" and involves gradually increasing the volume of emails over a designated period. Don't email your entire list all at once just after getting a new IP — you may surprisingly find yourself blacklisted.
One of the scenarios of the IP warm up is:
Day 1 – 1000 relays per day and 100 per hour
Day 2 – 2500 relays per day and 200 per hour
Day 3 – 3500 relays per day and 300 per hour
Day 4 – 4500 relays per day and no hourly limit
Day 5 – 7500 relays per day and no hourly limit
Day 6 – 9000 relays per day and no hourly limit
Day 7+ – no limits
If you are using G-Lock EasyMail7, you can set the limitations per hour and per day in the Outgoing Mail Account settings to be sure you are not exceeding the volume of sent messages each day.
After you build a positive reputation on your new IP address, try to keep a consistent email volume over time because mailbox providers used to filter the email when sudden boosts in volume after inactivity periods are observed.
---
How to Warm up an IP Address
Read this 11-page whitepaper to learn why and how to warm up your new IP
and make sure you're doing it right.
---
#8. Is my email service provider reputable?
Many marketers incorrectly think that their reputation and deliverability solely depends on the ESP they choose. While this is not entirely true, the reputation of your ESP matters. Since you are not the only one using a particular ESP for sending out email marketing campaigns, its reputation can be affected by other senders.
Basically, what happens is IPs owned by an ESP can develop a bad reputation if their senders don't stick to the best practices. So, when looking for ESP, make sure that they monitor the situation on their IPs and immediately get rid of bad senders.
#9. Do I have permission to email them? (be honest!)
A lot of email marketing experts tell that email marketing starts with a mailing list.
You'll want to make sure that you only send emails to people who really want it and gave you explicit permission to email them. If you send marketing messages to people who did not request them, they will mark your emails as spam.
Thus, check your email acquisition practice and stop collecting email addresses from public sources if you do it. Consider adding a subscription form to your website and allow visitors to subscribe to your list if they liked your content.
#10. Do I handle bounce, unsubscribe and FBL emails?
Handling of bounce, unsubscribe and FBL (complaints) emails is provided as a feature by email service providers, so their users don't have to care about it as it is done automatically.
Marketers who run in-house email systems and manage own SMTP servers have to set up the process of handling bounce, unsubscribe and FBL email messages for further suppression of these from their mailing list.
If you are like them, make sure that your email system processes such emails after each email campaign and excludes them from your active list.
Large email senders can pass bounce and FBL email handling to the third-party service like GlockApps.
GlockApps offers the comprehensive bounce and feedback loop monitoring tool that gives you precise information about your bounces and complaints.
GlockApps extracts the bounce email address and message ID of each email which generated a complaint and, where possible, the email addresses of the recipients who complained to help you detect and remove problematic and non-existent recipients.
The comprehensive and easy-to-read report will be available for you every day so that you can track your bounce and complaint trends. You can enable email notifications to get the report download links via email or add our Gappie bot to receive instant notifications in Telegram or Slack.
The bounce and feedback loop monitoring tool is not available for free and pay-as-you-go plans at GlockApps. You must have a subscription plan to have access to the tool.
#11. What is my Inbox Placement rate?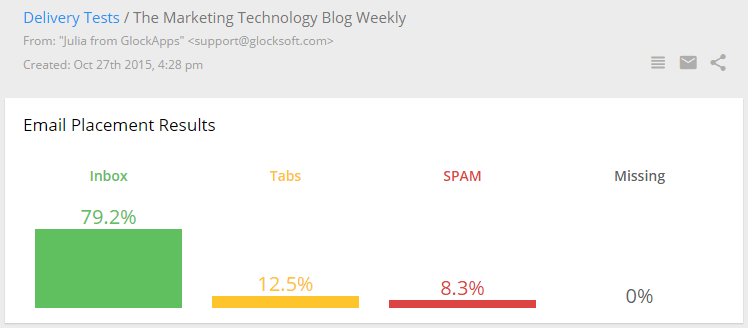 Marketers often complain about receiving a low response rate on their email campaigns while the delivery report shows zero bounces. You need to understand the difference between email delivery and deliverability.
Email delivery shows the number or rate of email messages that were sent and did not bounce back. It includes emails delivered to the Inbox, emails filtered out as spam and emails blocked before reaching the user's mailbox.
So, as you see, even if you have no bounces, it does not always mean that your subscribers received your email.
What you should look at is email deliverability. It is the number or rate of email messages that were delivered to the user's Inbox.
#12. Am I testing my emails before sending?
It's important to test your email deliverability to understand whether you get a low response rate because a lot of your emails go to spam or get blocked, or because your email is not teasing enough to be opened and read.
Email deliverability can fluctuate from campaign to campaign, thus, it is recommended to monitor it over time.
Testing and monitoring email deliverability is easy with GlockApps. Within minutes, GlockApps will show you where your email is placed at different ISPs.
To generate the report, we'll re-send your email through our personal accounts with Amazon SES, SendGrid, and Mailgun to the control list of email addresses (seed list).
But you should be aware that the deliverability may be different when you send emails through your SMTP server, delivery service or email service provider.
To test deliverability through YOUR sending infrastructure, you'll need to create an account on GlockApps.
In your personal account, you'll be able to create new tests and we'll show you in real-time if there are any problems with YOUR sending system and message.
So, quick-test your email using the live test below and you'll find the "Create My Account" button in your quick report.
We'll show you where your email appears: Inbox or Spam
First, send a copy of your email to:
What's the Bottom Line?
To achieve a good email deliverability, make sure you have the basics covered:
  a confirmed opt-in process that will ensure your list is valid and engaged;
  relevant email messages with a working unsubscribe link that will dramatically reduce the number of spam complaints;
  good sender reputation (email/domain reputation and IP address reputation);
  a process of handling bounced, unsubscribe and FBL emails that will protect you from blacklisting issues.