The Trends Email Marketers Should Know in 2021


Email communication has been a staple in internet marketing, embraced as a methodology for generating clients, and getting good conversion for SaaS and eCommerce organizations.
It is also the main reason why email marketers pursue exploring trends that leading CMOs follow. This is to prepare strategies that will impact 2021 considering our current situation with the COVID-19 Pandemic.
Due to this unfortunate event, companies tried their best to make adjustments, especially when it comes to running a business and connecting with their customers when choosing online transactions as well as running successful digital campaigns.
So what is the best thing to do? Digital marketing is the answer!
Know how you can build an organic email list that will lead your business to success with the help of email marketing. Read along as we collate email trends and insights that can positively impact brand visibility and good customer experience. Let's find out more efficient ways to increase sales!
What is the Importance of Email Marketing Insights and Reports?
Combined automation and personalization create a great strategy that really works and speaks to your consumers or subscribers on a whole new level. Having a good engagement always leads to increased ROI; therefore, email marketing is a great tool to combat the effect of less physical promotion of brands due to post-2020 behavior.
Furthermore, as per Netcore Inbox Expo, CMO Insider edition, knowing the value of experts' insights could help understand significant aspects of successful email marketing and to build stable processes for your organization. How can it help?
● Know actual trends and actionable steps that marketers can follow this year;
● Use this as an advantage to check customers behavior and create a more efficient business strategy for you and your team;
● Know what the recent email trend followed by the top global CMOs is;
● Have the opportunity to know and read about the decision made by the leading marketing team;
● Be aware of email shifts that could possibly affect your overall marketing strategies;
● Be equipped with executable ways for you to stay at the top against other marketing companies.
Email Trends to Follow
Create an impact and build a strategy that will positively change your email marketing process, that should be your main goal. Communicate using a dynamic approach and be relevant when you propose interactions with your consumers. Knowing and following trends has a promising impact to help stay on top of your game this year. Being creative and witty is a plus that you and your team need to master and understand.
Below are some forecasts and insights into what really works when it comes to email marketing.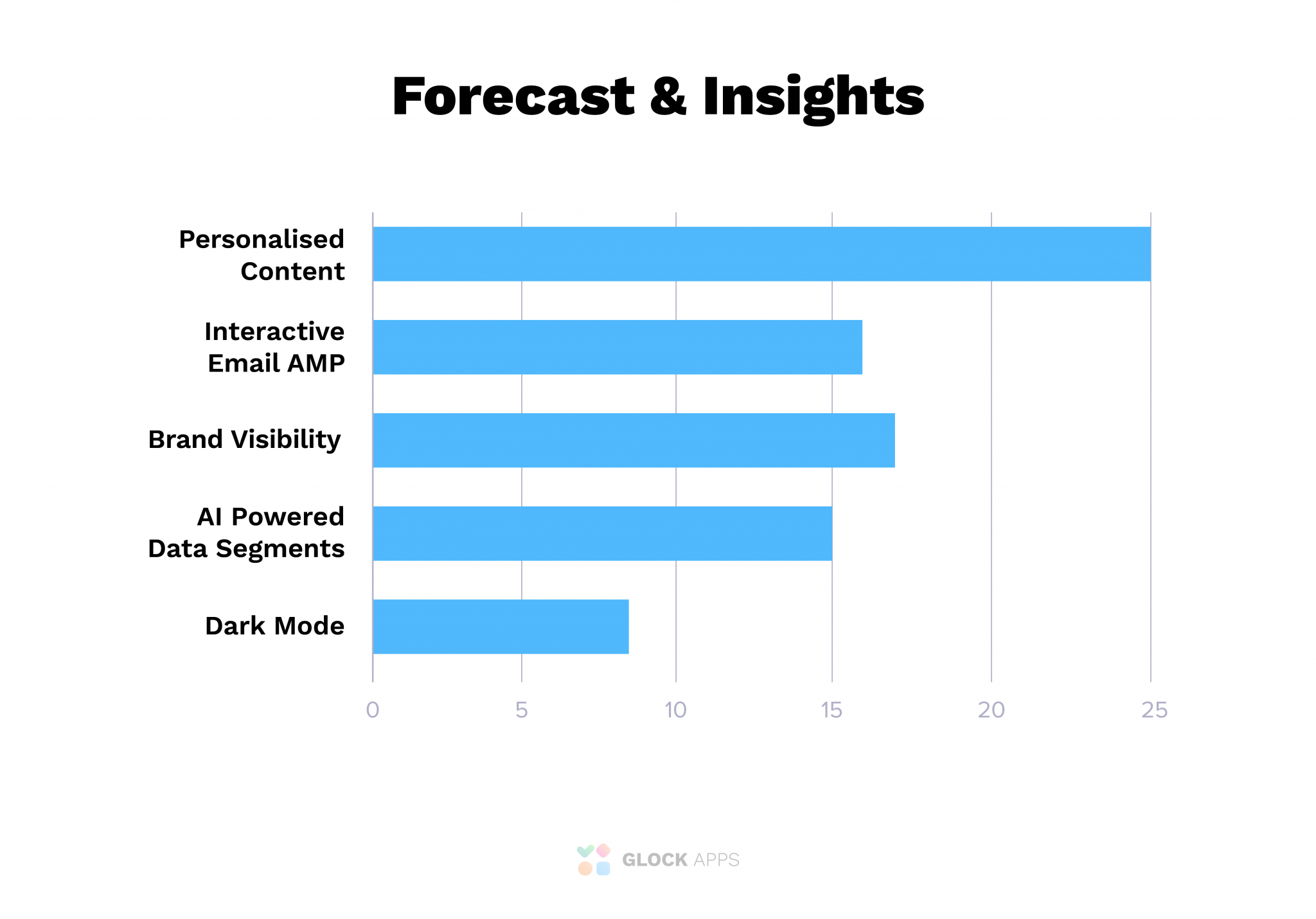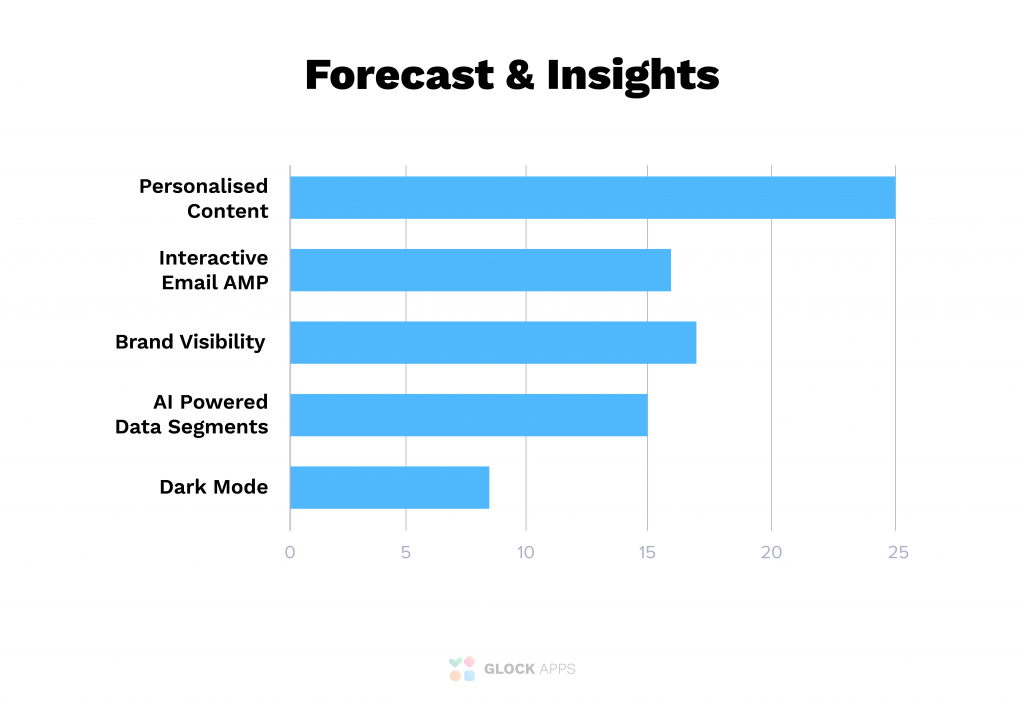 Looking at these numbers, what can be discerned from this list?
Automate personalized email journeys – by doing so, you could supercharge the organic leads. Let your consumers feel that they are being valued. Automation doesn't have to be boring and plain. While it is the most common issue in email marketing, marketers begin to discover trends that add appeal to their emails and could start a new conversation.

Start learning new strategies that will track your customer's behavior and know the topics that will get their attention. Data segmentation also plays a huge part in this to narrow down the things you need to analyze and focus on for successful email marketing.

Experiments with AMP (Accelerated Mobile Pages)+ – This blue lightning bolt emerged in search engines and became a trend that helps mostly the e-commerce business. This not only boosts the speed of landing pages post-click but also a tool to improve your emails. If you would like to have more engaging and dynamic content for your email, you would want to utilize AMP for email. It allows you to fully customize your email UI such as layouts, media, and dynamic content like forms, selectors, etc. and make it more interactive for your customer.

Stand out inside your customer's inbox (BIMI) – when BIMI was introduced, email marketers gained new leverage to be recognized and trusted by their targeted audiences. And since BIMI requires email authentication, such as DMARC, SPF, and DKIM, it provides an added protection to prevent email spoofing, phishing, and other cyber hacks. The main target of this trend is to boost your brand visibility that helps in delivering great revenue.

Read also: Email Authentication: Ultimate Guide

Explore AI features – Based on the top CMOs forecast, it is a good idea to explore and utilize these AI features:
Catchy subject lines – wherein you have to make it more optimized because it serves as the gateway to your overall strategies when it comes to email marketing. A great subject line makes your target consumer click your email and actually read it. Another thing that you must invest in is a good copywriter that will make sure that the subject line will not flop.
Automated Content – not only the subject line but you could also automate the content. These could be promotions, snippets, pre-written copies, blog posts. It evidently cuts the time you will spend on a single campaign.
Know Optimal Timing – It is vital to know when and how often you will send emails to your customers. Email marketers traditionally rely on their data analysis, intuition, and experiments to figure out particular timings, but thanks to powered AI tools, it is easier now to determine the right pattern and strategy when to deliver email campaigns to your audience.
What Can We Learn from This?
2021 dubbed as the rise of the machines in email marketing could be good news to many. There are AI helping brands that are also categorized as self-learning algorithms based on past transactions and the history of your campaigns and subscribers. They provide a smarter insight based on your segmentation and become a huge boost of email deliverability. You may also want to follow this checklist:
Understand how the technology works;
Equip your team to collect and properly handle data;
Remember that having a smart analysis is required to make sense of the data.
Take a look at this AI success metrics study based on the recent survey about the trends that could affect companies' ROI.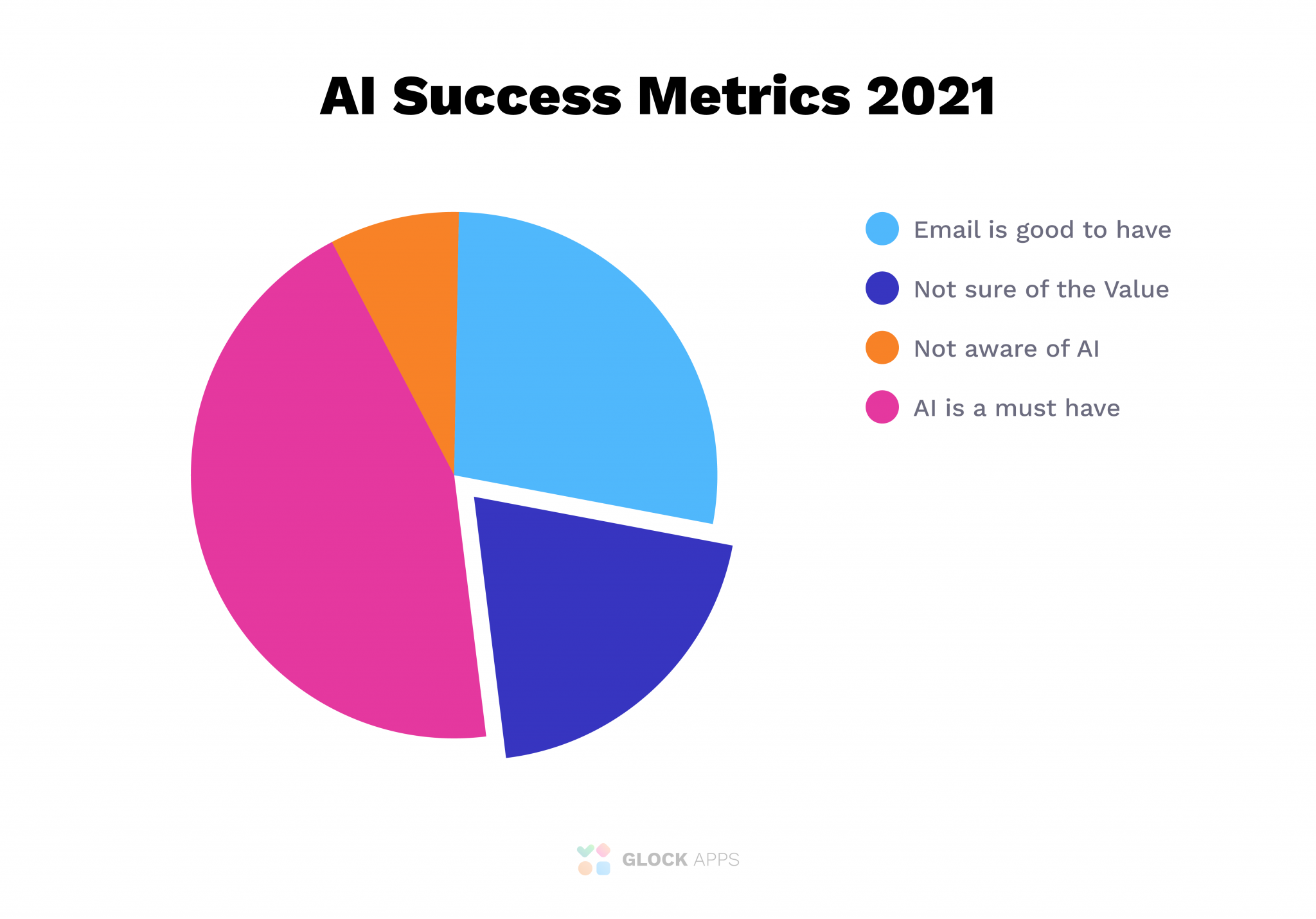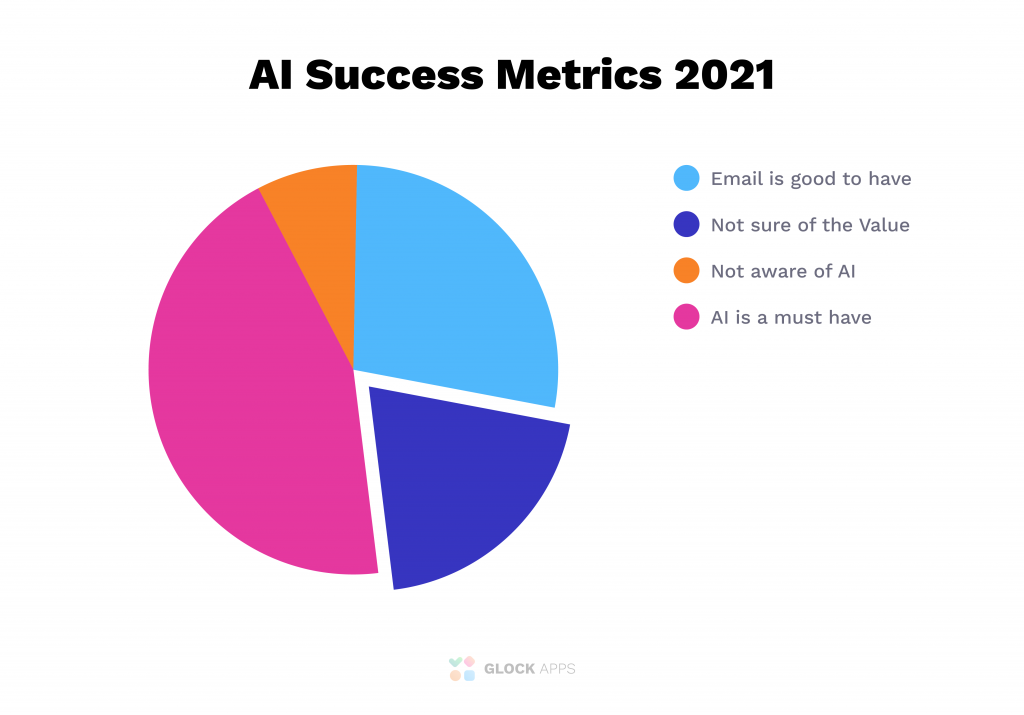 Based on the pie chart above, we can see that the AI trend is recognized by top CMOs as a booster for their campaigns and helps them gain more customers this year and to the upcoming years, if used consistently.
Though there is still a percentage of organizations that are not seeing the impact it can give to their company and brand, we can say that these people who are not sure or confident on the value of having an AI and following email trends will know it and experience it very soon!
Takeaways
Email marketing already proves its evolving methodologies can adapt to changes and can be successful even if we have an unexpected event like the Covid-19 pandemic. True enough that it delivers results, and all you need to do is know how it works. Be wise, look closely, and explore options you could take, like following email trends to help your brand stay on top of the game!