How to Use BIMI to Increase Your Brand Recognition & Deliverability

When it comes to email marketing, it is difficult to find a tool that can do everything. For instance, while one can help you increase visibility, it can't help you encourage subscribers to open up emails. Indeed, to this day, getting a tool capable of doing everything that you would like it to is impossible.
However, with BIMI, what you came to know as the norm is challenged.
BIMI, also known as Brand Indicators for Message Identification, can help make your firm reach the results that it wants out of email marketing campaigns.
After all, it helps make it simpler for your logo to be placed alongside your message within email accounts. This way, your visibility will increase while fraudulent messages are averted.
What Exactly is BIMI?
BIMI is here to help authenticate data regarding your brand through text records that you will find in servers. Indeed, it is similar to that of SPF, DMARC, and DKIM, which are used to confirm data about senders.
However, the beauty of BIMI is that it works in parallel with those programs, indicating to customers that you are actually you. This platform stands out from others, though, because it can help ensure that your logo gets shown in inboxes that support such initiatives. This way, your brand is immediately visible to readers.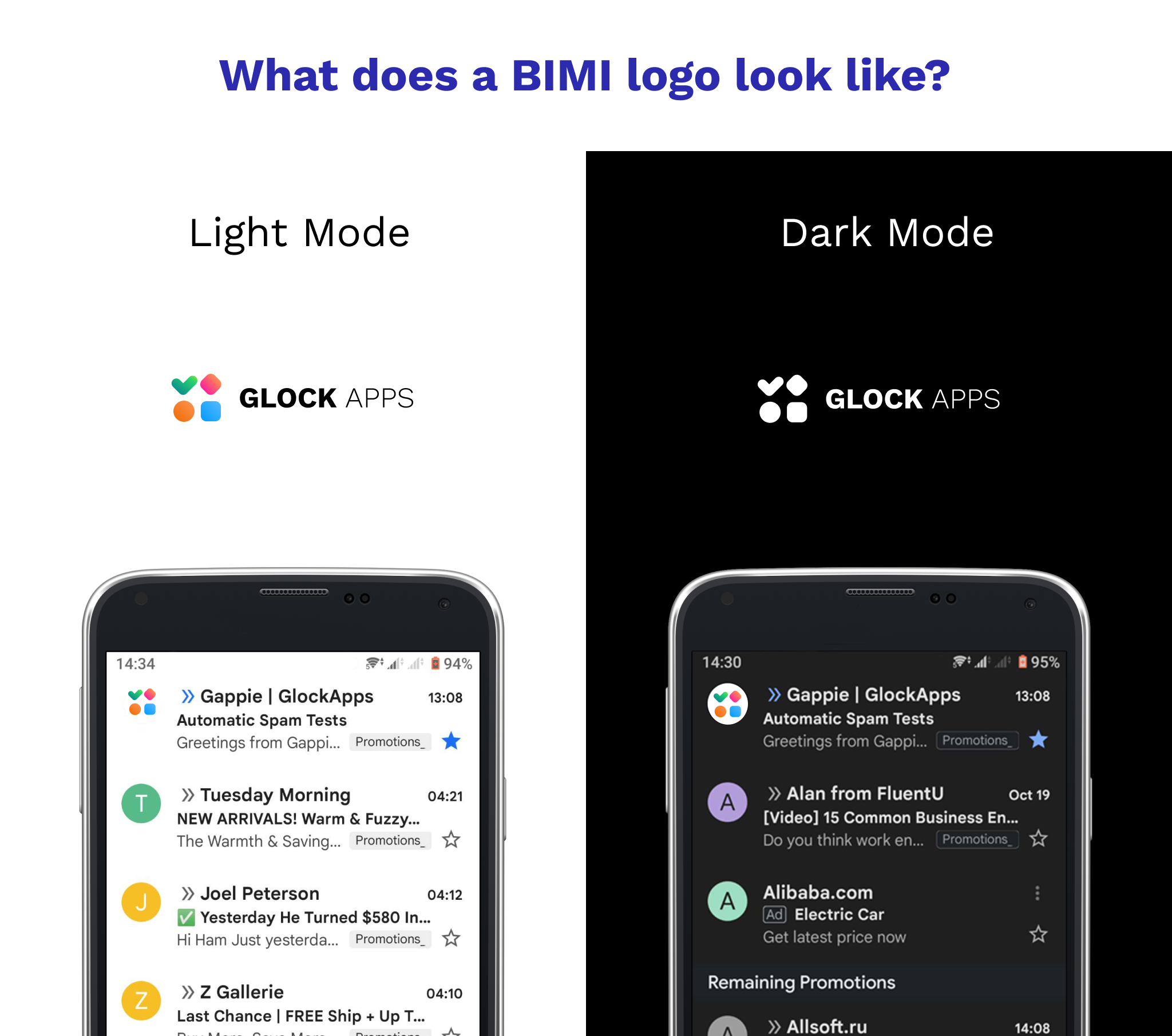 You will want to keep in mind that only Yahoo! Mail currently supports this standard. Other services are also looking to add it further down the road. Therefore, while it may currently not yield the exact results that you want, things could be different in the future. Indeed, you could be reaping huge benefits that other companies will have to catch up to.
How does BIMI Work?
When you break it down to the core, BIMI is simply a text file, similar to that of most email authentication standards. This text file is located on the sending servers of your company. Additionally, it has to abide by a specific format.
As soon as a message gets sent, the email service of those who receive it has to read the text file and check out where it is hosted. This is a security precaution that, if passed, is verified. Through this verification process, BIMI can let the service know where they can find your logo; that way, they can place it next to your message in the reader's inbox.
As simple as the process may be, you will also have to set up some more authentication records, which we had mentioned earlier. You also have to be able to get into the servers of your domain name so that you can establish a new BIMI DNS entry. Lastly, you will need to make sure that your logo is in SVG format.
Benefits of the BIMI Email Standard
BIMI undoubtedly is a great tool to use. The benefits of implementing it are:
1. Brand awareness
With your logo in every email, customers will be constantly reminded of your brand, which boosts brand recall.
2. Security
BIMI secures your emails from becoming an object of fraud. Your logo will only appear in the email after a proper authentication process.
3. Trust and ROI increase
Since your email has an authenticated logo in it, your clients will trust in the legitimacy of your message. The more trust and loyalty grow, the bigger will be a positive effect on ROI be.
So BIMI is a single tool that solves two problems: authenticates your message and boosts positive customers' reaction to your brand.
Quick BIMI Deployment Checklist
Step 1: Set SPF, DKIM, DMARC.
Make sure you set up SPF, DKIM, and DMARC email authentication for the messages that are sent from your domain. If any of these records is missing in DNS, add it.
Step 2: Set "p=reject" or "p=quarantine" DMARC policy.
The BIMI standard won't work if you use the "p=none" DMARC policy. If you are using DMARC in monitoring mode, check your DMARC reports to see if you can switch to the "quarantine" or "reject" policy to implement BIMI.
Step 3: Create and host your brand's logo file.
The standard requires an SVG formatted logo. You will need to arrange for hosting an image file that contains your preferred logo if you do not already have it in a place where it is publicly accessible via HTTPS.
Step 4: Get a Verified Mark Certificate for your BIMI assertion TXT record.
A Verified Mark Certificate (VMC) is a new type of digital certificate that proves the authenticity of a logo associated with the sender's domain. The current plan is for Verified Mark Certificates to be mandatory for BIMI to be activated on a domain.
A Verified Mark Certificate has the following key functions:
It validates your organization and associates it with your official logo.
It stops phishers and spammers from showing well-known logos next to their emails.
It prohibits misuse of your company's logo.
VMC will be issued by trusted third-party certificate authorities after successful verification of the organization. DigiCert and Entrust Datacard are one of the first to join this initiative.
Contact their sales or support teams using the information below.
Digicert
Contact email: support@digicert.com
Live chat and phone contact are also available on the contact page.
Entrust Datacard
Contact email: sales@entrustdatacard.com
Live chat and phone contact are also available on the contact page.
Step 5: Create and publish a BIMI record.
You should make several technical considerations when building the BIMI DNS record. The record should be published in a zone named "default._bimi", located directly under the second-level domain (for example, if example.com is the desired second-level domain, the BIMI TXT entry sits at default._bimi.example.com).
The BIMI record consists of a fixed version string "v=BIMI1" followed by a separator (; and optional space) and then an "l=" tag.
The l= tag value is a full URL or up to two URLs separated by a comma. The "l" character in the tag is a "lower case L". Using another character may impact the record being correctly interpreted.
The l= tag points to the URL with the HTTPS-accessible SVG image file that contains your brand's logo.
Here is an example of a BIMI TXT record:
default._bimi.example.com TXT "v=BIMI1; l=https://domainmail.com/company-logo.svg;
a=https://domainmail.com/company-logo.pem"
If BIMI is a tool that you are interested in starting to use, we suggest using the BIMI Inspector at GlockApps.
You can enter your domain there and verify if a BIMI DNS record already exists for your domain. If it doesn't exist, you can generate a BIMI record.

So, as you can see, while BIMI will help you get your logo to be placed inside of your subscriber's inboxes, you will also be able to gain their trust, too. After all, with the help of this tool, readers will be able to easily spot which brands they can and cannot trust within their email accounts. Indeed, they will assume that you are trustworthy rather than a malicious sender the moment they see your logo. While regularly seeing logos is beneficial, the advantage is taken to a whole new level when a logo becomes trusted.
While the content within an email is essential, the brand's very first impression is key to even getting that email opened up, let alone into the inbox of the subscriber. While BIMI is still relatively new with only the support of one email provider, it is a new development that has taken the industry by storm.
In the draft by BIMI, you can get an in-depth view of its inner workings across those who send emails and those who receive it.
Learn More About BIMI:
What is BIMI: Ultimate Guide to BIMI in 2022
How to Strengthen Your Brand with BIMI
What is BIMI and Why You Need It for Successful Email Marketing
GlockApps Spam Testing for Marketers and Agencies
Test your email placement
Scan your emails through all the major spam filters before you send them.
Improve your deliverability
Get actionable tips for improving the delivery rate of every email you send.
Increase your revenue
Improve your overall email performance by delivering more emails to the inbox.