How to Maximize Inbox Delivery: Best Practices that You Can Implement Today
The Internet and email have created new opportunities for businesses of all sizes and across all markets. The bad thing is that malicious senders are abusing email too. I bet you are receiving hundreds of ads and promos every day from people you have not even heard of.
Thus, ISPs and all receiving networks are forced to take measures to protect their users against the assault of increasing volumes of spam and malicious emails.
On the other hand, the war of Internet service providers (ISPs) against spammers harms legitimate email senders, and your marketing results suffer because of this, right?
To help you reach the Inbox consistently, I've created 25 foolproof tips that you can start implementing today. To make it easy, I broke them down into 4 chapters:
What is Email Deliverability?
Email deliverability is the basis, the foundation of your email marketing. It is the ability to deliver your messages to recipients' inboxes. Low deliverability results in low open rates, click-through rates, and overall engagement every email marketing campaign needs.
To achieve high deliverability you must follow the best practices of email marketing, and although it may look overwhelming at first, it will all make sense once you start to implement them.
1.
Maintain a "Healthy" Mailing List
Look:
Email marketing starts with an email list. A list is the key factor that determines whether or not your email marketing campaign will succeed is the quality of your mailing list.
In order your marketing efforts do not go in vain, consider the following approaches to list building:
1.1. Never Buy Email Lists
Purchased lists are a great opportunity to grow your email list by a million potential customers in no time. Have you ever been seduced by that? If yes, forget it.
Being filled with invalid email addresses and spam traps, purchased lists are ticking time bombs. They quickly inform ISPs that you are sending unsolicited emails.
At best, your emails end up in Junk folders. At worst, you are considered as a spammer, and your sender reputation is ruined forever.
So, if you think about buying a list, don't do it. Instead, put an opt-in form on your website and collect email subscribers using a confirmed subscription process.
1.2. Use a Confirmed Opt-In
A single opt-in process when the user agrees to receive emails by simply entering their email address and clicking the button remains in the past. Why? Because it allows malicious subscriptions and spam bots to slip onto your list.
This may then result in high amounts of spam complaints and bounces. Spam complaints are dangerous because some ISPs begin blocking sending servers after as few as 2-3 spam reports per one thousand emails. And a high bounce rate can lead to your account suspension with your email service provider.
The best way to defend against spam complaints and invalid subscriptions is to use a confirmed opt-in process. It requires an extra step when you send a confirmation email to the new subscriber, and they need to validate their email address. (In many countries, a confirmed opt-in is now a mandatory requirement.)
1.3. Clean Your Email List
A high hard bounce rate is the fast way to trigger filtering and blocking on your new IP. And if you are using an ESP, a high bounce rate is the fast way to get your account suspended.
If you have not emailed your list for 6 months or more, it makes sense to use a paid service to clean all hard bounces before you launch a fresh email marketing campaign. You can use BriteVerify, FreshAddress or DataValidation services, or desktop software, for example, Advanced Email Verifier.
Then, determine inactive subscribers and try to re-engage them. Measure inactivity based on the volume of emails sent, not on the time frame. Thus, instead of asking "Did they open an email within the last 6 months?" ask "Did they open any of the last 10 emails I sent them?"
Try to wake inactive users with incentivized reactivation emails to determine whether or not they are still interested.
If they do not respond, as part of good email list hygiene stop sending to those people but NEVER DELETE SUBSCRIBERS from your base. You can always use those emails for retargeting people via Facebook or Google Adwords.
1.4. Remove Hard Bounces and Consistent Soft Bounces
Email bounces occur when your message cannot be delivered to a certain email address – it 'bounces' back. Bounced emails fall in two main categories: hard bounces – permanent delivery failure, and soft bounces – temporary issues with message delivery.
There is a number of reasons why an email can bounce: from auto-reply or full mailbox to a non-existent email address. Whatever the case is, high bounce rates are bad for you. As we previously stated, it will trigger filtering or even account suspension. Therefore, hard bounces and consistent soft bounces should be removed right away.
1.5. Remove Generic Email Addresses
Generic email addresses are the ones used by many employees of the same department or project. For example, sales@, support@, admin@, etc. They don't belong to one person, and many staff members can reply on behalf of this email account.
The issue with generic accounts is that your message will either be filtered by spam filters or just deleted manually from the account. These addresses do not bring any value to your email marketing campaign; on the contrary, they only lower your reputation. Don't hesitate to get rid of them, although your email list might get smaller, it will definitely be a healthy one.
1.6. Filter Contest Entry and Giveaway Signups.
You might be wondering:
Why are email lists created from giveaways or contests not good for email marketing?
Because they are not highly responsive. People who enter a contest or giveaway care about a chance to win something, they don't care about getting on your email list and receive your marketing emails.
Thus, many users create a disposable email account just to enter a contest or giveaway and don't use their real email address.
So, if you are thinking about using a contest or giveaway to build a list, it's a bad idea because it could be a source of hard bounces and complaints, which could do harm to your IP reputation.
2.
Check Your Sending Infrastructure
The receiving ISP is also watching your sending infrastructure: email software, email service provider, sender IP reputation, and sender authentication. No matter how clean and confirmed your list is, your emails may be filtered as junk mail if your sending infrastructure is not in order.
With that said, keep in mind the things below when deciding on the email provider or setting up your sending server:
2.1. Use a Reliable ESP or Delivery Service
Here's the deal:
The reputation of the Email Service Providers (ESP) and delivery services is evaluated based on the reputation of the IP addresses they are sending emails from and domains of their clients.
ESPs with low scores on the IP addresses are doomed for the spam folder delivery. Messages sent through such ESPs are eventually blocked by the providers like Gmail, Yahoo, and Hotmail.
ESPs and delivery services that allow to send emails to subscribed lists only and ban spammers' accounts on their platforms have greater credibility with mailbox providers. They provide consistent Inbox delivery if their clients follow best email marketing practices outlined in this post.
As an alternative to ESP, you can consider a hybrid email marketing system like G-Lock EasyMail7. A hybrid email system works as a front-end to delivery services and SMTP relays and allows you to create multiple email accounts with different SMTP settings and quickly switch between the accounts.
For example, if your primary delivery service has any temporary delivery issues, you can use a different account in the hybrid software and send emails through your reserve SMTP relay.
Another advantage of a hybrid email system is that it allows to keep all your data (email settings, contact lists, email templates and autoresponders) in-house without the need to upload it to a 3rd party database.
2.2. Implement Authentication
The job of ISP filters is to protect their users against spam emails. How will ISPs know that your IP is valid and trustworthy? Proper sender authentication does it all.
The receiving server can cross-check your sending domain name against the associated IP address to make sure that it is legitimate. If the check fails, your emails may be rejected.
Thus, take the time to set up SPF, DKIM, and rDNS records for your sending domain and test your email authentication with an email spam checker tool.
To learn more about email authentication, read this tutorial: Email Authentication: the Ultimate Guide.
Authentication test from GlockApps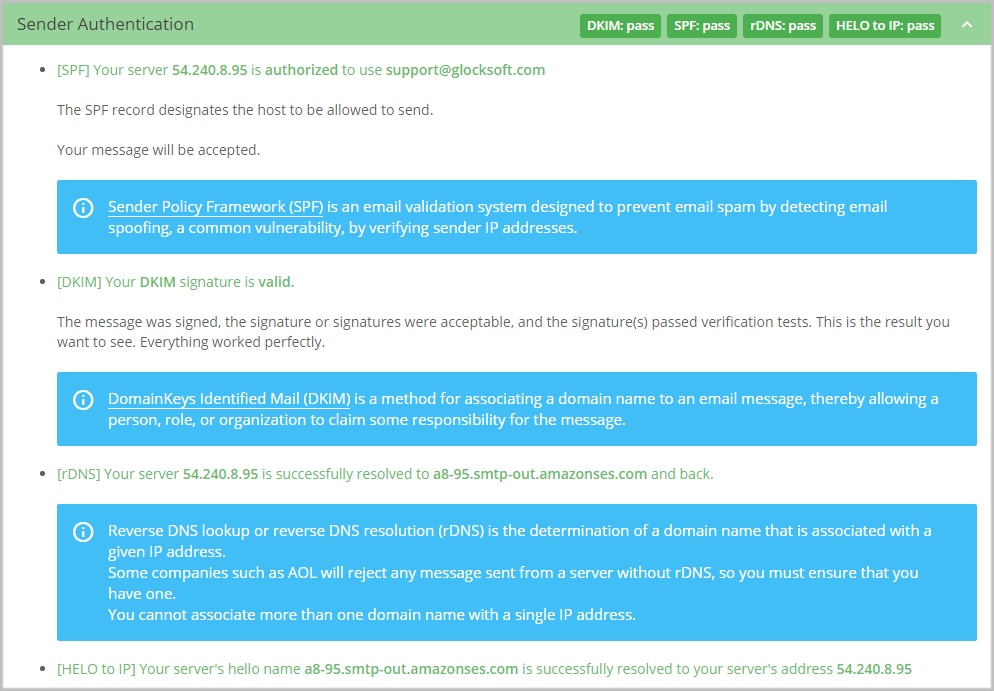 2.3. Sign up for Feedback Loops
Most major ISPs provide the feedback loop service, in which the email sender can know the recipients who have complained about that sender's email.
If you are managing your own SMTP server, you should definitely sign up for feedback loops with major ISPs. Yahoo, AOL, and Microsoft make it easy to enter. But only ESPs are allowed to enter into Gmail's FBL program.
2.4. Improve Your Sending IP Reputation
To improve IP reputation, keep in mind these three rules:
Never send to people who are not your subscribers. It increases spam complaints, blocks and other things people usually do when they don't want to see your message in their mail;

Keep different channels for your marketing campaigns and your transactional emails. They have very different engagement rates, the marketing emails usually have lower engagement. This will influence the good transactional email performance;

Warm your IP address if you have a new IP. Start sending emails in small volumes to the recipients who you know are engaged. As these users receive and open your messages, the ISPs will start feeling confident in your IP. Then you can slowly increase the number of emails in one sending until you scale to your desired volume.
2.5. Check If Your Sending IP is Blacklisted
If you're experiencing delivery problems, and even if you're not, it's always a good idea to check whether or not your IP is blacklisted. DNS-based blacklists are created to protect people from receiving emails from IPs that have received a high volume of spam reports.
Sign up for an IP monitoring service GlockApps to check your IP reputation at a regular basis. GlockApps can send you an email notification about your IP status after each check.
IP reputation monitoring from GlockApps

If the test shows that your IP is blacklisted, try to go through the removal process. The removal instructions are usually stated on the blacklist's website.
Below are good guides you'll want to check to learn how to find out if your sending IP is blacklisted by an ISP and how to request the removal:
How to Remove Your IP Address from Gmail's Blacklist
How to Remove Your IP Address from the Hotmail/Outlook's Blacklist
How to Remove Your IP Address from the Yahoo!'s Blacklist
Try to contact trouble ISPs directly if nothing else works. This ISP information page has a directory of the major ISPs' postmaster pages, FBL service signup pages, and whitelist pages.
2.6. Avoid Spam Trap Emails
Spam trap can get on your email list if you don't follow the best practices. Either you have purchased a list, haven't deleted the old email address that has been turned into a spam trap or didn't validate your email list. Good email list hygiene is the only cure from getting into a spam trap.
2.7. Ask Your Subscribers to Whitelist Your Email Address
Don't hesitate to ask your new subscribers to whitelist you or add your sender email address to their address book or safe sender list. You can send the whitelisting instructions right in the welcome email and duplicate them on the confirmation page.
It is a foolproof way to deliver all future emails bypassing the spam filters. This is so easy, yet practiced so rarely.
2.8. Increase Your Engagement Rates
Engagement is characterized by two metrics: open rate and click-through rate. Each of these metrics depends on different factors in your email.
The open rate is the percentage of recipients who opened your emails. To improve the open rate, you should concentrate on subject lines. It is the first thing that drives people to open the letter.
Click-through rate is the percentage of subscribers who clicked on links in your email. For this metrics well-crafted content is the key.
Note that sometimes, a low engagement rate is caused by deliverability problems. What it means is that your email can be interesting for your audience, but they just don't receive it, because it lends in a spam folder or doesn't get to the address at all.
2.9. Always Monitor Your Email Metrics
There are many metrics to monitor, but it is a necessary part of the process for good email marketing results.
Among the most important email marketing metrics are:
Open rate
Click-through rate
Conversion rate
Bounce rate
Amount of unsubscribes
Spam complaint rate
Email forwarding/sharing
These are not all the metrics you can monitor, but you should constantly keep an eye on these.
You may not suspect it, but your email campaigns may contain risky content detrimental to the deliverability of your messages.
Though there are no magic keywords to improve deliverability, but by limiting the use of risky elements you can reduce the likelihood of your emails landing in the Spam folder.
3.1. Send from Your Real Email Address
Internet service providers look at more things than just the sender authentication, domain, and content. Some of the ISPs pay attention to your "From" field. Thus, your deliverability results can vary if you are using the noreply@yourdomain.com versus newsletter@yourdomain.com address.
To bypass spam filtering problems connected with your "From" address, consider these tips:
avoid From addresses rotation (this is a pure spammer tactic);

stick to a limited number of From addresses and build a good reputation for them by sending only solicited and engaging emails;

avoid obscure From addresses such as "1338sdsd8@domain.com" or "noreply@domain.com";

use a trustworthy From address reflecting your brand in the domain.
3.2. Use a Recognizable "From" Name
If you want your "From" line to show the name instead of the email address, make it branded to reduce spam complaints. It's also been proven to improve open rates.
To make the email more personal, some companies use a front person to head up their email marketing. You can use this approach too. Just write the individual's name followed by your company name as the "From" name.
3.3. Avoid Dirty Tricks
There are straightforward signs that trigger spam filters and that you should be aware of. Try to avoid them when you create your email template.
Here's a quick checklist to go through before you hit the "Send" button:
distorted words in an attempt to fool spam filters, e.g. "F.ree. p.r!z.e";

deceptive and misleading Subject lines, create the Subject that reflects what's inside the email;

Subject lines starting with "Re:" or "Fwd:" attempting to suggest an ongoing communication with the sender;

excessive exclamation marks, especially in the Subject line, e.g. "Buy my e-book now!!!";

excessive use of color; when an emphasis is needed, highlight a few words or only a single sentence, not the entire paragraph;

excessive use of ALL CAPS; do not shout at your subscribers, use a maximum of one word per sentence in all capitals, never a whole sentence;

image-to-text ratio; do not send a single image with a text on it, use a good balance of images and text in the message;

URLs of the images, host your images at credible services only;

domains you link to from the email, link only to legitimate sites with reputable domains;

email size, don't go crazy – 50 kb is just fine;

HTML code, broken HTML can lead to spam folder placements at certain ISPs.
To ensure that everything is ok with your email content, test it against spam filters, for example, SpamAssassin. You can quickly do it with GlockApps. You'll see your email spam score and detailed report about what elements in your email add spam points.
If the score is more than 5, consider re-writing the message to make it less "spammy."
SpamAssassin test report from GlockApps

3.4. Don't Let Your List Go Cold
Ideally, you should stick to the mailing frequency that you promised during the subscription process. If you do not tell your subscribers how frequently you will contact them, don't wait for too long. They might forget about you, right?
If they fail to recognize the From field, at best, they may delete your message, spoiling your "open" rate. At worse, they may send complaints by marking your messages as spam.
So, there is a good reason for maintaining a steady flow of communication with your list, rather than relying on occasional, massive "blasts."
3.5. Proofread Your Emails
Proofreading does much more than just eliminating grammar mistakes. It also helps you to step back and look at how your email sounds. Take a break before starting to proofread, use different techniques, check yourself in Grammarly or other resources that check not only grammar but also clarity, engagement of the text, etc. The proofreading process also helps you keep the right tone of voice for your audience.
3.6. Avoid Including Attachments
There is more than just one reason why attachments should not be present in a marketing email:
ISPs will probably filter your email to spam if it contains an attachment because it is a tactics spammers use;

Recipients might mark your email as spam even if it will get through to them;

With an attachment email gets larger and decreases user experience, for various reasons it is uncomfortable and sometimes impossible to download attachments, especially from mobile devices.
As an alternative, it is much better to provide a link to the content you wanted to share in the attachment.
3.7. Avoid Image-Only Emails
The idea of the image-only email is attractive to many marketers because it kind of solves many issues. Unfortunately, at the same time it creates new issues:
If images are turned off on a device, the recipient won't see your email;

It takes much longer to load, it is irritating and you can be marked as spam;

Spammers use image-only sending technique, so your email might as well be filtered to spam;

Sometimes image email won't adjust to a certain device type that will result in the unreadable text;

When text becomes embedded in the image, it becomes unsearchable, so if your recipient would want to find something particular in your email, it would be impossible to do.
It is better to use both text and images in your email in a healthy ratio, which is usually 80% text and 20% images.
3.8. Include a Clear Unsubscribe Link
Absence of unsubscribe link or a link that is hard to see in the email causes nothing but irritation from your recipients. There are also spam laws and regulations that clearly state you have to include an unsubscribe link.
Benefits of including an unsubscribe link:
Email list clean from people who don't want your messages;

Lesser spam complaints, because you send only to recipients who want to receive information from you;

Unsubscribe link shows that you care about your recipient's wants and needs.
3.9. Send Valuable Content
Engaging with the client is a two-way street. If you want something from them, you should offer something in return. Bombarding recipients with constant emails asking to buy from you will build neither trust nor long-term relationships.
Content should be interesting specifically to your audience. Ask yourself what value can you bring to their lives with your messages. Whether it is a 'how-to' video, educational content, useful product-related articles, or something else – add it to your marketing plan.
If you don't know your audience that well – don't worry, just ask them! You can use small surveys and questionnaires, and ask what type of content they would prefer to receive. By doing so not only will you get valuable information you need, but also build trust by showing that you are interested in your recipients, in their wants and needs.
Learn More: How to Write Emails that Convert
4.
Test Your Deliverability and Spam Score
Want to know the best part?
You can quickly test your deliverability with GlockApps.
Within minutes, GlockApps will show you where your email is placed at different ISPs.
To generate the report, we'll re-send your email through our personal accounts with Amazon SES, SendGrid, and Mailgun to the control list of email addresses (seed list).
But you should be aware that the deliverability may be different when you send emails through your SMTP server, delivery service or email service provider.
To test deliverability through YOUR sending infrastructure, you'll need to create an account on GlockApps.
In your personal account, you'll be able to create new tests and we'll show you in real-time if there are any problems with YOUR sending system and message.
So, quick-test your email using the live test below and you'll find the "Create My Account" button in your quick report.