Copywriting Best Practices for Avoiding the Spam Folder

This is the guest post written by Sujan Patel.
Spam email accounts for more than 45% of all email traffic. Put another way, that's about 14.5 billion spam messages sent every day.
Is yours one of them?
It can be frustrating to invest your time and budget into crafting the perfect email for your prospects, only for it to end up in the same junk mail folder as unwanted coupons and letters from Nigerian princes. Unread emails do nothing for your business or bottom line, but there's no way to guarantee you'll avoid the spam folder (even if you're not sending spammy content).
How can you boost your chances of ending up in your recipients' inboxes? Your copywriting skills can give you some leverage. Put our six best practices to work to create filter-friendly email copy that can help you maximize opens, clicks, and sales:
1. Avoid Spam Trigger Words and Formatting
Email copywriting 101: some words and some types of formatting are automatic red flags for ISPs.
Phrases that look like they came straight from an infomercial are likely to get you noticed for all the wrong reasons. This chart from Yesware is a good resource to use when writing spam-free email copy and subject lines: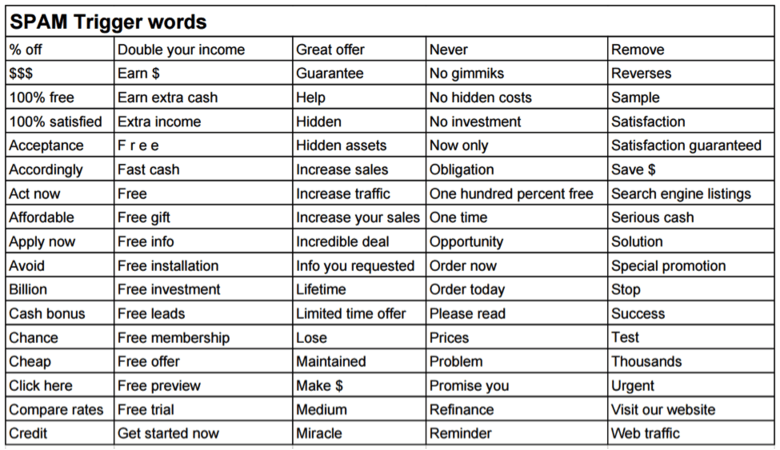 But it's not just what you say. It's also the context in which you say it. Some of the above words (e.g. limited time offer, free gift, reminder, etc.) can naturally work their way into your email. When used in the right context, they may even be effective.
Just keep your message's proportions in mind. Phrases that are combined with other spam triggers, such as exclamation points, all caps, non-emoji symbols, or other strange formats, are more likely to direct you to junk mail.
You can run your email content and Subject line through the GlockApps content checker and see which words and phrases could potentially trigger spam filters. You'll want to avoid them or use such words wisely to make your content look as less "spammy" as possible.

The bottom line? If you're going to use words or phrases that might be considered spammy, do so sparingly.
2. Use a Clear Subject Line
Studies show that eight out of 10 people will read headline copy, but only two out of 10 will read the entire piece. The same principle applies to email subject lines, as 47% of emails are opened or discarded based on the subject line alone.
A good subject line is concise and sets the right expectations for the email content, minimizing your chances of being labeled as spam. Avoid spam words in your subject lines, and since 77% of emails are opened on mobile devices, keep them to 50 characters or fewer.
Split the difference between clear and clever. In other words, you don't want to "trick" people into opening your email, but you do want to catch their attention. For example, a good abandoned cart email subject line could read, "Hey [name]! Did you forget your shoes?" Subject lines are contextual, but very important to get right if you want to avoid the spam filter.
Alex Birkett, Sr Growth Marketer at HubSpot and co-founder at Omniscient Digital, explains that you can test which subjects lines land the best. "I like to set up A/B tests on my cold email subject lines. With enough volume, you can see open rates, and then you can also tie that to further metrics like response rates and even close rates. Getting quantitative and testing things is underrated."
3. Make Your Message Relevant
Nearly 60% of email users will mark a message as spam if they receive too many or irrelevant emails from the same sender.
One way to know if you're sending too many irrelevant emails is to keep an eye on your growth metrics. Look to see how users are engaging with your emails in terms of opens, clicks, replies, purchases, etc. If you're getting radio silence or a lack of engagement beyond the occasional open, you may want to consider removing them from your list altogether.
Low engagement can make you look less favorable to ISPs and potentially lower your sender score. If your score dips too low, your emails are more likely to end up in spam folders. Check your email sender score periodically to see if and where you need to make improvements.
4. Use Double Opt-In
Sending a confirmation or welcome email when a user first joins your list starts the relationship on a high note. Once they open your initial email, their engagement indicates that your email belongs in their inbox, making future messages more likely to appear there.
From a copywriting perspective, all you need is a simple, straightforward message that focuses on getting new subscribers to open and confirm their interest in receiving email from you.
Here's an example from Nextdoor showing how to do this well: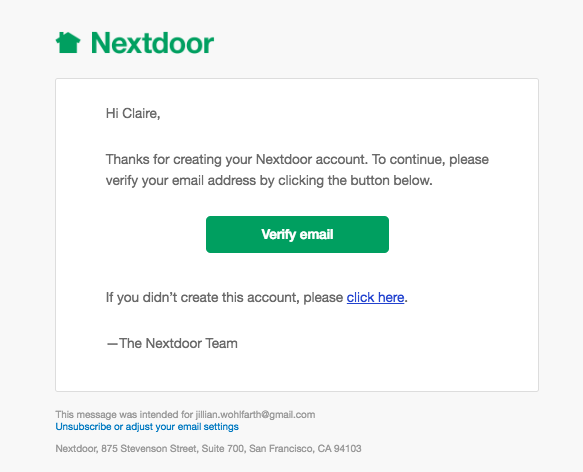 5. Create a Clear Structure Within the Content
One of the hallmarks of a spam email is a lack of connection between the beginning and end. If you're writing whatever pops into your mind and clicking "Send," your recipients won't understand why you're emailing in the first place.
Focus on crafting a clear arc that moves the reader from the introduction to the CTA in a logical, compelling way. To do this well, start with the end in mind. Think about what you want your reader to do after reading the message, then work backward:
CTA > Offer > Features and Benefits > Credibility or Social Proof > Introduction > Subject Line
Your CTA is your foundation. Take the time to consider exactly what you want to happen at the end of your email. By building your CTA first, you're creating an anchor that'll make the rest of your email copy much easier to write.
Director of Marketing at 2ndKitchen Levi Olmstead recommends adding a "P.S." section at the end of your email that clearly highlights the main CTA, adding that many recipients will only skim their emails and focus on the subject line, opening sentence, and the final sentence of an email.
6. Review the Work of Those Acting on Your Behalf
If you aren't a champion copywriter, it's easy to think that outsourcing your email copywriting can give you a leg up in this arena. This can be a savvy move, but it doesn't take away the burden that's on you to not send a spammy email.
Remember, it's your company that's at stake. Your reputation. Your profits. And it's only you that has the final say over any messages you send to your audience.
Though a professional email marketer or copywriter should follow best practices, you should still lend your oversight in order to maintain a high sender score and protect your reputation. That's why it's critical that you know a thing or two about email copywriting and spam triggers – even if you're not the one behind the keyboard.
What other tips have you found to be most effective in avoiding the spam filters? Share your own best practices in the comments below.