Using Emojis in Email Marketing
Emojis have taken the world by storm since their creation in the 1990s. Due to their mass adoption and popularity, it was only natural that smiley faces and other emoji graphics would make their way into email marketing.
Read this article to discover how you can use emojis to benefit your email marketing program.
Can You use Emojis in Email Marketing?
Statistics show that including emojis in emails has grown at a rapid pace of 775% every year. As email marketing evolves, it has also become more difficult to grab people's attention.
Email inboxes have become crowded with promotions, deals, and never-ending marketing emails. Adding Emojis in your subject line or email will help you stand out and grab your subscriber's attention.
Why are Marketers adding Emojis in Emails?
People love emojis. So much so that they even created a holiday for them called World Emoji Day. But that's not the reason why email marketers have adopted them into their email marketing program.
In order to draw attention to their mail, email experts incorporated emojis into their email subject line. This helped them stand out against any other word-based message by adding a splash of color to the inbox.
It only took just a few clicks on the keyboard to make a significant difference to their email marketing efforts. Studies show that adding emojis in your email subject lines can increase your email open rates by up to 29% and can increase click-through rates by 28%!
How do You Insert an Emoji in an Email?
Over the years, as more people began using emojis and more high-quality emoji characters were developed, operating systems also developed easier ways to access them.
The easiest way to insert an emoji into your email is by copying and pasting it from an emoji database like Emojipedia.
However, different operating systems and email service providers have different shortcuts to access the emoji keyboard:
Using Emojis in Outlook
Outlook for Microsoft 365 includes a small set of emojis. You can use a text code for an emoji from this list to insert it. Typing 🙂 converts the smiley face into a smiley emoji.
Using Emojis on Windows
On Windows 10, there is a much larger set of emojis. To access the Windows 10 emoji keyboard, hold down the Windows key + period (.) or semicolon (;) key at the same time to see the emoji menu.
Using Emojis on Mac OS
Ensure that the app you want to type in is in focus, then place your cursor where you want to type the emoji. Press the Control + Command + Spacebar keys on your keyboard at the same time or right-click and press "Emoji and Symbols". A small window overlay appears with a bunch of Emoji characters in it.
Using Emojis on Gmail
Click the smiley face emoji at the bottom of your composer to access the emoji keyboard. You can also use the shortcut Command + Shift + 2 to see emojis.
Should you put Emojis in Email Subject Lines?

Yes, you can put a single emoji (or two) in your email subject line, but first, perfect your copywriting style to best suit your audience. See what tone resonates with them and then (if it's appropriate) add emojis sparingly to amplify your email subject lines' effectiveness.
Keep in mind that most emojis fit best in B2C e-commerce emails as they may come off as unprofessional and inappropriate in B2B business emails.
Here's an example of ways emojis can fit in your email subject lines:
Add one emoji as a prefix to your subject line
🥰 Shop New Styles!
"Wrap" them around your subject line
🐾 Perfect Gifts for Paws 🐾
Use it as a suffix to your subject line
Claim Your Free Gift! 🎁
Where Else Can You Insert an Emoji in an Email?
Here is another example of a few ways you can implement emojis in your messaging aside from your email subject line:
Include an emoji (or two) in your preheader text
Check out our Friday Buy 1, Get 1 Free sale and save 35% on our most popular lipstick shades! 💋💄
Add an emoji to your Greeting
Hey Brandon 👋
Close with an emoji in your salutation
Cheers ☕️
Katherine M.
How do Emojis Affect your Email Deliverability?
Emojis by themselves, should not impact your email deliverability. However, if you send marketing emails with numerous emojis, bold all caps, and excessive punctuation in your email subject line, your email clients may think that you are sending spam.
This can drastically lower your open rate and may impact your ability to communicate with your email subscribers in the future.
Therefore, you should follow best practices when deciding whether or not to include an emoji in your email messages.
Best Practices for Using Emojis in Email Marketing
While the usage of an email emoji has exploded in popularity, it's critical to follow these best practices to ensure that you're using emojis effectively in your emails. This can mean the difference between whether an emoji helps or hurts your marketing emails.
Don't Overuse Emojis
It's important not to overuse this popular trend. According to statistics, 59% of customers between the ages of 18 and 34 feel that businesses are using too many emojis. Emails that use way too many emojis or employ them too often appear like spam.
Also note that when you add an emoji to your email subject lines or email messages, it's best not to repeat it multiple times, as it has less of an impact that way.
Don't use Emojis as a Substitute for Words or Phrases
Digital marketing professionals should be mindful that not all email clients know what a specific emoji means.
Emojis aren't a fixed means of communication and they're better suited to elicit emotions rather than take the place of actual words. Sometimes emojis can be misunderstood or misinterpreted which can cause confusion or offense.
Therefore, when you are sending mail, instead of writing an email subject line as " 🙌😱2️⃣0️⃣% off 🔥 new 👕👚 now‼️✨" you should write "Shop 20% off new styles now! 🔥" Less is always better when it comes to emoji use in your subject line.
Don't use Subject Line Emojis if your Brand has a Serious Style or Tone
You know your audience best. If you normally speak to your clients in a scientific, factual informative way, for example, it wouldn't make sense to insert irrelevant emojis throughout your message. This can reduce your credibility and professionalism.
However, if you operate an eCommerce business that treats its subscribers as friends, that's a whole different story. Your subscribers may prefer that form of communication rather than word-based messages.
If you notice that inserting an emoji in your subject line field improves your open rates, by all means, do what works best for you.
Factor in your Audience
Your subscriber's demographics are an important factor in keeping your open rates high and your spam complaints low. Not all subscribers like receiving the same type of messages. Different email clients have different tastes when it comes to email.
Here is an example of some factors that can affect your email open rate:
Age:
It shouldn't be a shock that millennials are the most receptive to seeing an emoji in email subject lines. Studies found that 68% of millennials view emojis positively, compared to just 37% of subscribers over 65.
Avoid using an email emoji in every campaign and save them for major occasions. And, when you do choose to use one, be cautious about which emojis you pick and stick to only a single emoji per subject line.
Gender:
Women, in general, respond more positively than men to seeing emojis in their inbox. Although men may have a lower open rate than women when it comes to seeing emojis in subject lines, overall both men and women are far more likely to respond positively than negatively.
Business vs Consumer:
Be cautious when you send business emails with emojis. One-third of senior executives believe emojis are unprofessional and inadequate in the work environment. Some business professionals are even bothered by a simple smiley face emoji.
On the other hand, consumers are more friendly towards the use of an emoji for marketing reasons. 64% of emoji-using customers are willing to purchase things like food, movie tickets, and clothing from marketing emails using emojis.
Split Test your Email Subject Lines
Always test your emails with and without emojis when you send a campaign. Split tests (or A/B tests) allow you to test a singular variable to a fraction of recipients from your campaign and see which one performs best. The best-performing variation will dominate its rival and be sent to the rest of your segmented email list.
Test Your Emails to See How Emojis Render
Another reason why you should test your emails prior to sending your campaign to your whole list is that not every subscriber is going to see the same thing. In a perfect world, there would be a universal emoji system, however, emojis render differently on different devices.
As new emojis develop on one operating system, they may not yet exist on another. Thus, if you use a newer emoji that another system has not developed, the recipient on that system will see a blank square like this ▢.
Here is an example of how an emoji may render differently on different devices: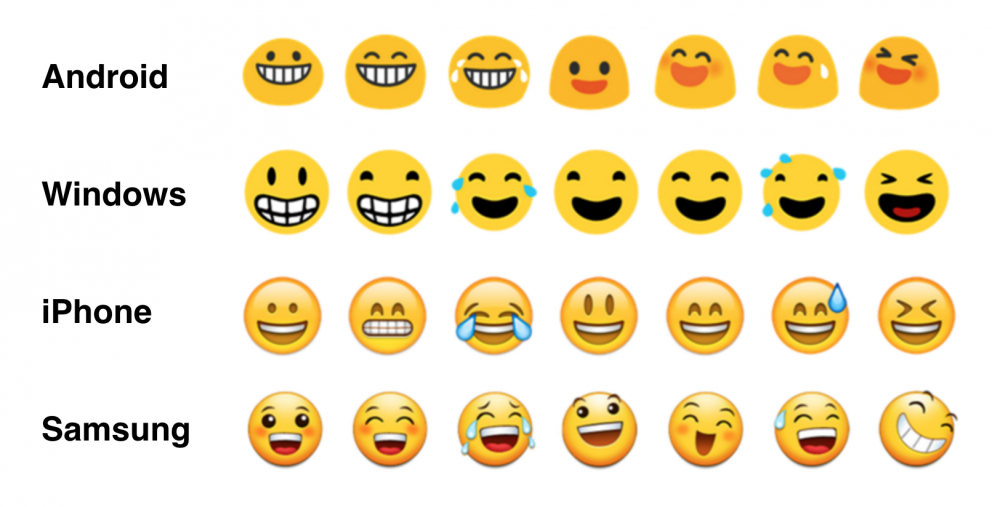 Who Supports Emojis?
Support for emojis depends on the operating system (OS) the user opens your email on, rather than the email client. Most OS have developed their own emoji keyboards with their own unique style.
Windows supports emoji on Windows 7 or above, including Windows 8, Windows 10, and Windows 11.
Windows Vista does not support emoji, nor does any version prior to it, although some emojis will be converted to Emoticons.
***Gmail is an exception. Gmail will always show emojis regardless of the operating system.
The use of an emoji, if used correctly, can increase your email open rate this year. Emojis are great for grabbing people's attention and helping your emails seem more personable.
Regardless of whether you're using emojis to add a little personality to your subject lines or if you are trying to grab attention in your subscriber's inbox, emojis have made a substantial impact on the future of email marketing.
Learn More: How to Write Emails that Convert