Bounces and Complaints Monitoring and Reporting
Real-Time Analytics
GlockApps looks at the data from the ISP or Mailbox Provider's mouth. We know when you're having problems, we perform root cause analysis and provide suggestions on how to solve problems. This happens in real-time and automatically.
Precise Reports
GlockApps Bounce Monitor reads your bounce emails and classifies them based on the reason for the delivery failure. You get the bounces break down by the sender email address and domain and you can see which senders have major issues with their campaigns.
Integrations
We integrated the GlockApps Bounce Monitor with Amazon SES, SendGrid, Mailgun and SparkPost to track bounce emails via SNS notifications. We can knock out new integrations with just a couple weeks of effort if the opportunity is right.
Getting started is simple.
1. Forward bounces to GlockApps or set up an integration.
ISPs most commonly send Abuse Reporting Format (ARF) files to your "Return" email address and sometimes to your "From" email address. Set up your email agent to forward ARF files and bounce emails to your personal bounce email address that we'll give you. If you are operating your own mail server, you can sign up for ISP feedback loop services to receive ARF files from here.
If you are sending emails via Amazon SES, SendGrid, Mailgun or SparkPost, set up an integration with the email delivery service to track bounce emails via SNS notifications.
2. Check reports at GlockApps.
Once you start forwarding your bounce and feedback loop emails to us, we'll start collecting them and compile the reports for your analysis so that you can suppress bouncing and complaining users from your subscriber list and improve the effectiveness of your email campaigns.
---
Why You Should Monitor Feedback Loops and Bounces
Feedback loops are the mechanism ISPs like Hotmail and Yahoo! employ to report email messages reported as spam to senders. When a recipient marks your message as spam, the ISP sends you a report so you can track and suppress the recipient who filed a complaint. In the past, the impact spam complaints have on deliverability was largely underestimated. Nowadays, senders realize the importance of feedback loops and the necessity of processing complaints.
With the GlockApps Bounce Monitor you can:
identify when the peaks of bounce emails happen via the alerts sent by the system;
understand which email campaigns generated the highest complaint rates;
determine and export the users who complained for suppression from your mailing list;
predict which of your IP addresses are likely to be affected and at which ISPs;
protect your sender reputation on a proactive basis;
find out if blacklists are impacting your ability to deliver emails to the recipients.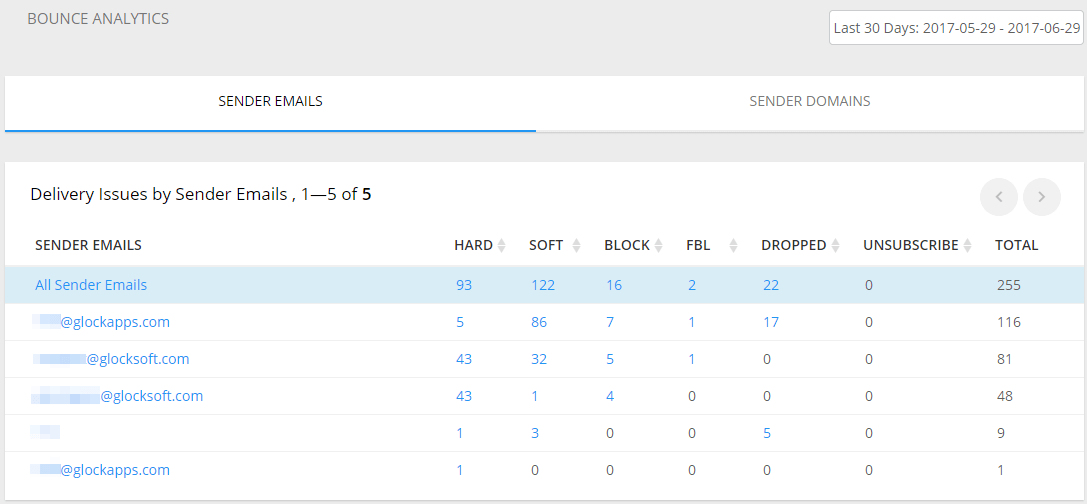 If your ability to deliver emails is impacted by the blacklisting of your sending IP address, you will most likely receive a bounce notification that contains a message indicating that your email was rejected because of a listing on a blacklist. In most cases, the bounce message includes the name or URL of the blacklist. An example of this type of message is "Message rejected due to IP [0.0.0.0] listed on RBL [X]".
The Bounce Monitor analytics allows you to identify the root cause of deliverability failure and answers the most vital questions such as:
Is my content or IP blocked by Gmail, Yahoo!, or other ISPs?
What blacklist has the biggest impact on my ability to send to Inbox?
How do I fix these problems?
It also shows you spikes in your bounce rate over time in the graphic diagram.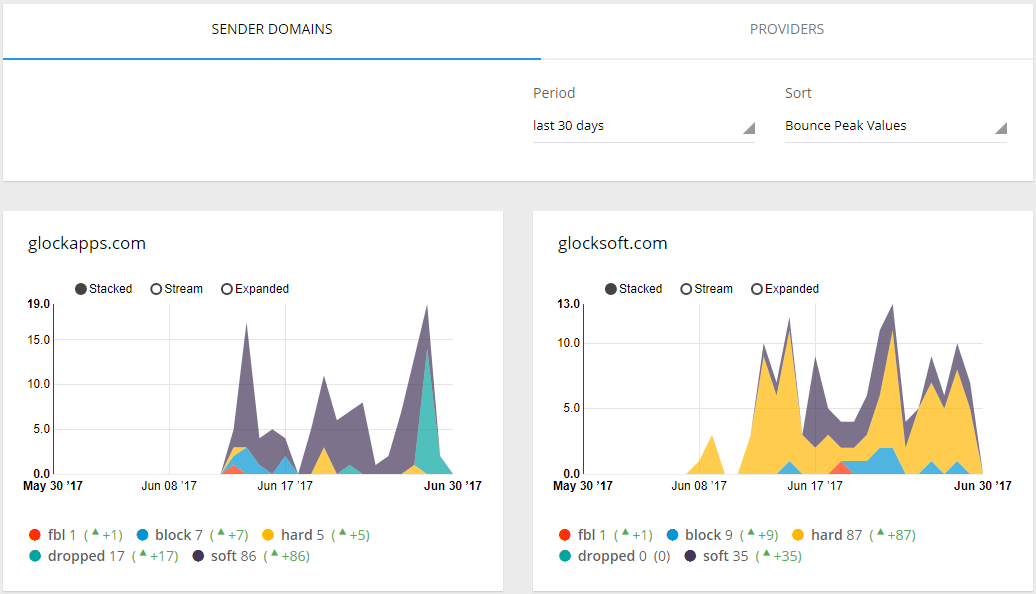 The information it will gather will help you determine different things that can potentially lead to poor deliverability: some of them are content related, some of them are IP related, some of them are reputation related.