How to Create Recurring Tests
In GlockApps, you can create a recurring test and let the tool automatically test your message via your SMTP settings at a regular time interval.
The GlockApps email spam checker tool will regularly send your message to dozens of mailbox providers you chose and show you the deliverability report. You can also receive an alert when your email doesn't get to the Inbox at any of the selected mailbox providers.
To create a recurring test, follow these steps:
In your GlockApps dashboard, click "Create Recurring Test".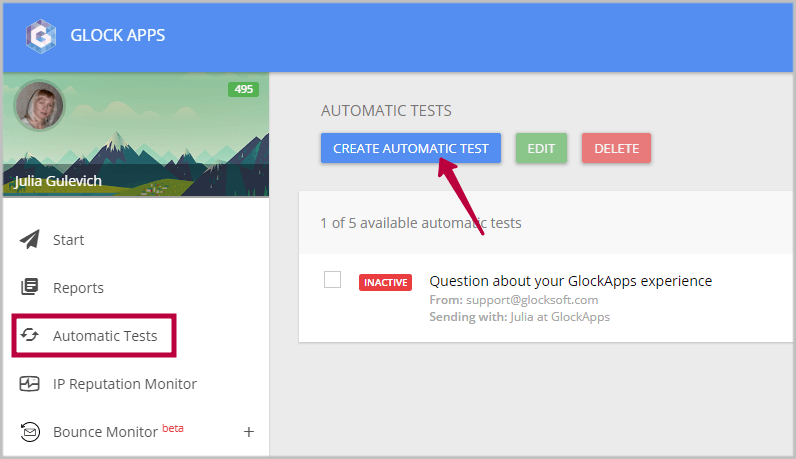 As recurring tests are sent via your SMTP settings, select a sending account.
If you have not added an account yet, do it now.
Enter your From name, From email address, your mail server information and choose mailbox providers to test your message against.
The "From Name" and "From Email" are your name and email address that you want to send your emails from.
"Account Name" can be any name for your account. It will be visible in GlockApps only.
"Username" is your login username for your SMTP server.
"New Password" is your password for your SMTP server.
If your SMTP user requires a blank password, type nopassword into the Password field. If you need to whitelist the GlockApps IP address, whitelist the 52.4.163.16 IP.
Custom Headers
While sending your message to the seed list GlockApps keeps only 'MIME-Version', 'Content-Type', 'Reply-To', 'List-Id', 'List-Unsubscribe' and 'Subject' message headers.
If you want to keep your custom message headers, for example, to tell SparkPost which dedicated IP to use for email sending, check the "Keep Custom Headers" option and specify them.
Click "Create Sending Account".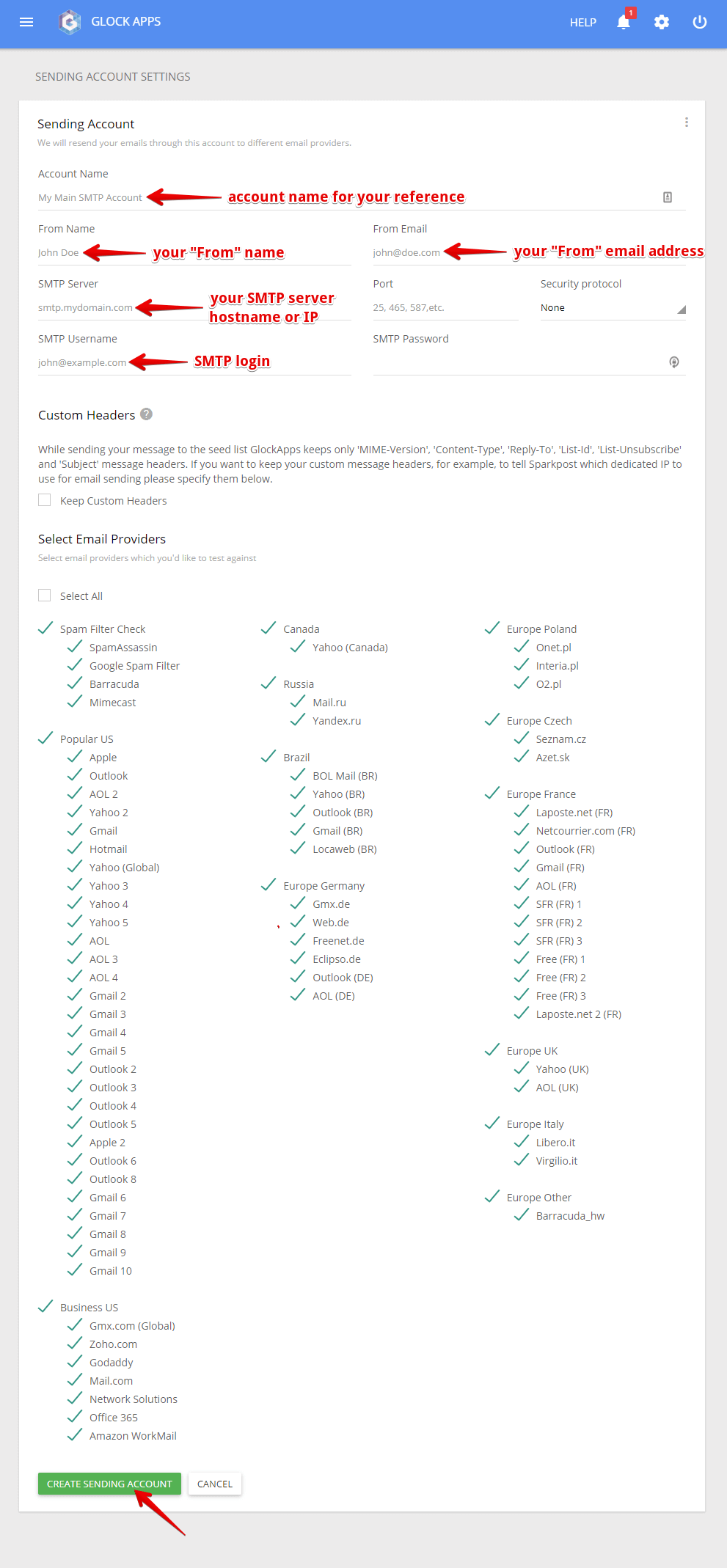 Using G Suite SMTP Settings
If you want to use your Google Apps account for a recurring test, follow these steps:
1. Go to the Admin console dashboard, then go to Apps -> G Suite -> Gmail -> Advanced settings.
2. Set up the "SMTP relay service" settings as the below screenshot demonstrates.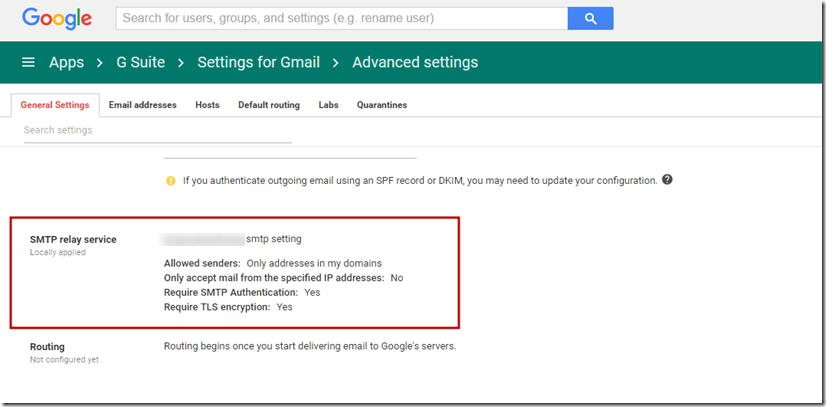 If you chose to only accept messages from specified IP addresses, then add the GlockApps IP address 52.4.163.16
You can read more about the G Suite SMTP settings configuration here
3. Click "Save".
In your sending account in GlockApps, use the following G Suite SMTP settings:
SMTP Server: smtp-relay.gmail.com
Port: 587 with START TLS
From Email: your G Suite email address
Username: your full G Suite email address
Password: password for your G Suite email account
At the 2nd step, copy-paste your personal testing email address in your email software and send the message to it.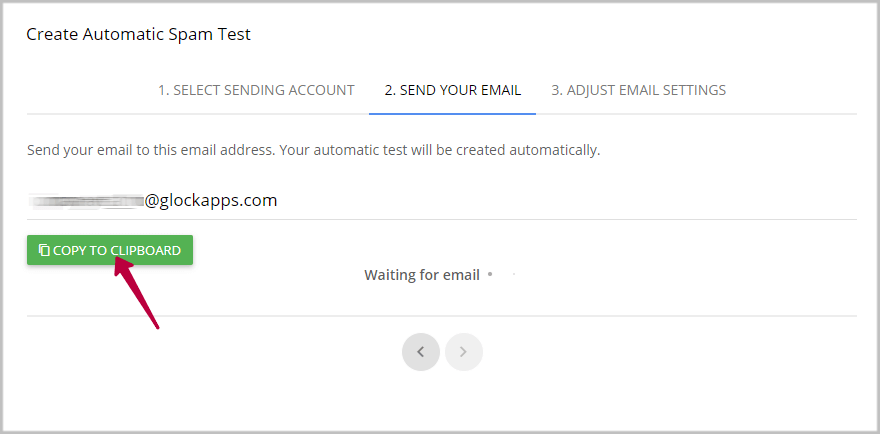 GlockApps will automatically re-send your message to the seed email addresses and create a recurring test for this email.
Click "Next".
At the 3rd step, you can adjust your email settings and activate the recurring test.
Choose the time interval the test will be made at: 3 hours, 6 hours, 12 hours, 24 hours, 3 days, 5 days, or 7 days. The available intervals depend on your subscription plan.
Enter the email address the alerts will be sent to.
Enter the time period (in minutes) the system will wait before sending an alert to you.
Select mailbox providers to test the message with.
The alert will be sent if the message isn't delivered to the Inbox at chosen mailbox providers.
Click "Save and Activate".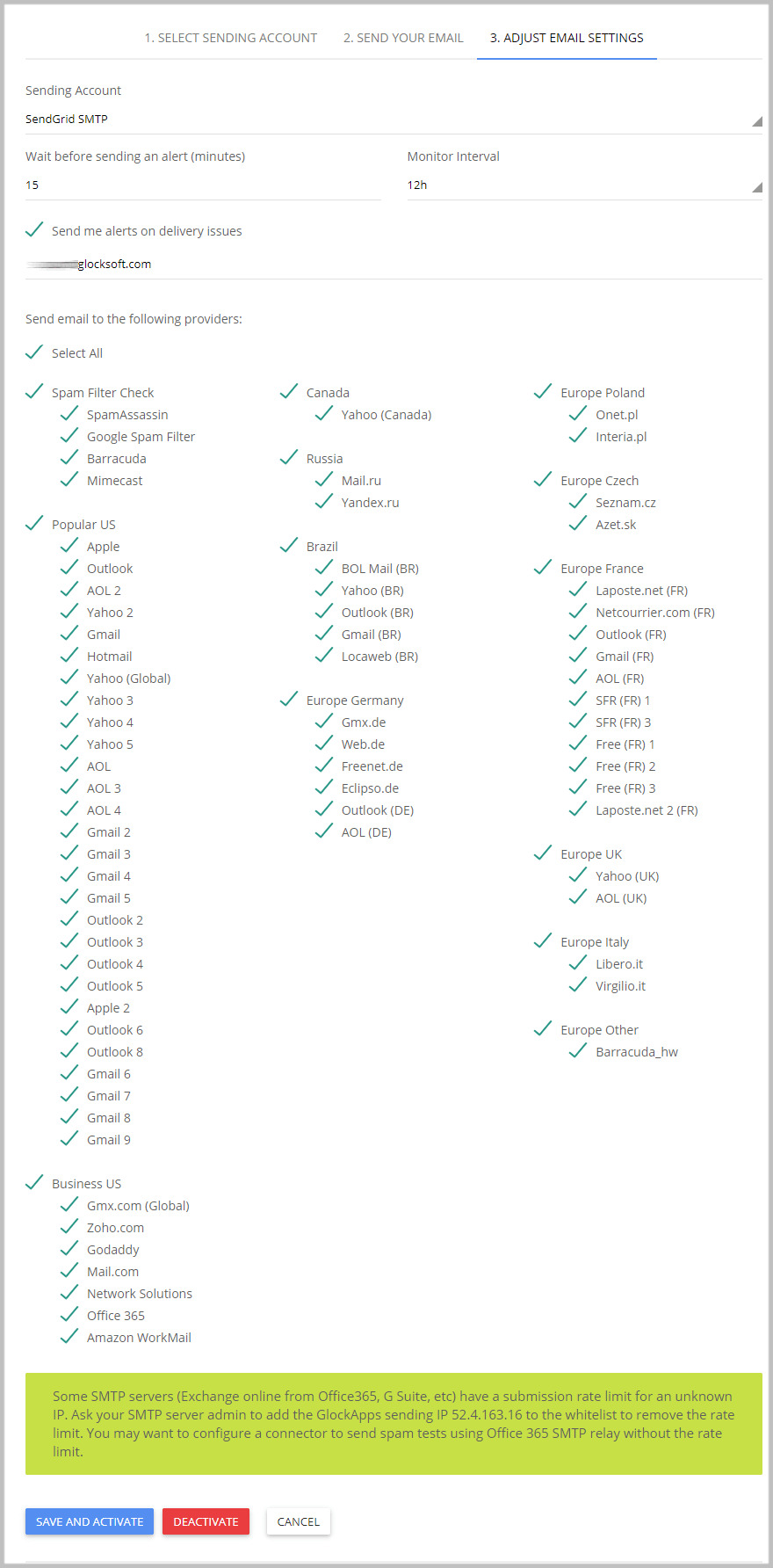 Our application will automatically re-send your email to the seed addresses at your chosen interval, log in each email account and check whether your message arrived in the Inbox, the spam folder or is missing entirely and most likely blocked.
To view the last report, click on the message subject under Recurring Tests.
How to View the History of the Recurring Test Reports
At the top of the report, there is a history diagram of the reports created by the given recurring test during the last 30 days. The diagram shows the Inbox rate over time.
To view the detailed report from any specific date, scroll the mouse over the top of the history diagram and click the desired date.
How to Edit, Deactivate or Delete Recurring Test
Go to "Recurring Tests" in your account and click on the recurring test (message subject).
Then click on the button with three points and select the desired option.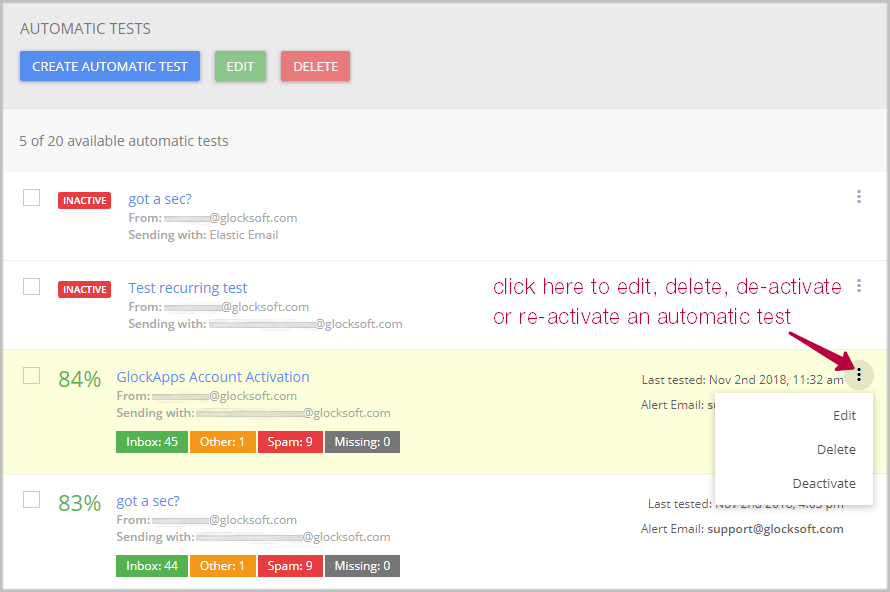 Important note!
Each ISP or mailbox provider stores information about the sender and outgoing mail servers used to send large volumes of emails to it. They track how the recipients engage with the received emails and over time each sender gains a reputation, good or otherwise. ISPs update their filtering algorithm on a regular basis depending on how they treat the sender at this time. Using recurring tests at GlockApps, you can see your current sender reputation and know if any of ISPs or popular filters are flagging your email as spam. We'll send you an email alert when there is a problem with your template deliverability.
Tags: GlockApps, recurring email test, recurring test, spam test