How to Test Inbox Placement and Spam Score with GlockApps
There's no reason to send emails without confidence that they will land in the Inbox.
Email delivery problems can happen at any time when ISPs start sending your emails to the spam folder, or blocking them altogether.
In order to identify and fix delivery problems before they cause significant harm to your business, we recommend running GlockApps Inbox placement and spam filtering tests regularly.
The main difference of the GlockApps email spam checker from simple content checkers for spam keywords is that we require you to send the message to multiple "seed" email addresses in order to check the spam score for your email content, your reputation (reputation of the email/domain you send from), authentication and real email placement across dozens of ISPs. It's important that you send a test email from the same place you'll send your actual campaign from.
GlockApps connects directly with Mailchimp to spam test an email. It is also possible to test any other email independently of the email provider you use. You need to take a few extra steps to do this.
So, if you are NOT using Mailchimp, follow these simple steps to test the campaign and determine email delivery problems before you send to the entire list:
1. Create Email Spam Test.
Login to your G-Lock Apps account.
Click the Start Test button.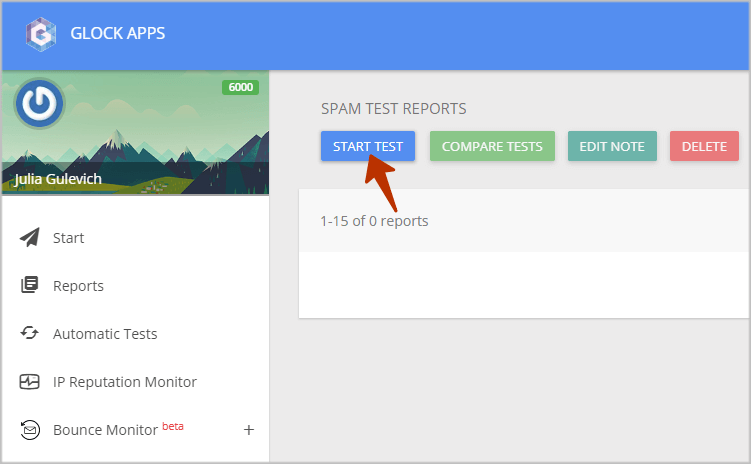 Choose Internet service providers you want to test your email with and click Next. We recommend that you test your email with all available providers.
This will automatically generate your seed list (a list of test email addresses) and the test's tracking ID.
2. Send Email to the Seed List.
Copy the test ID.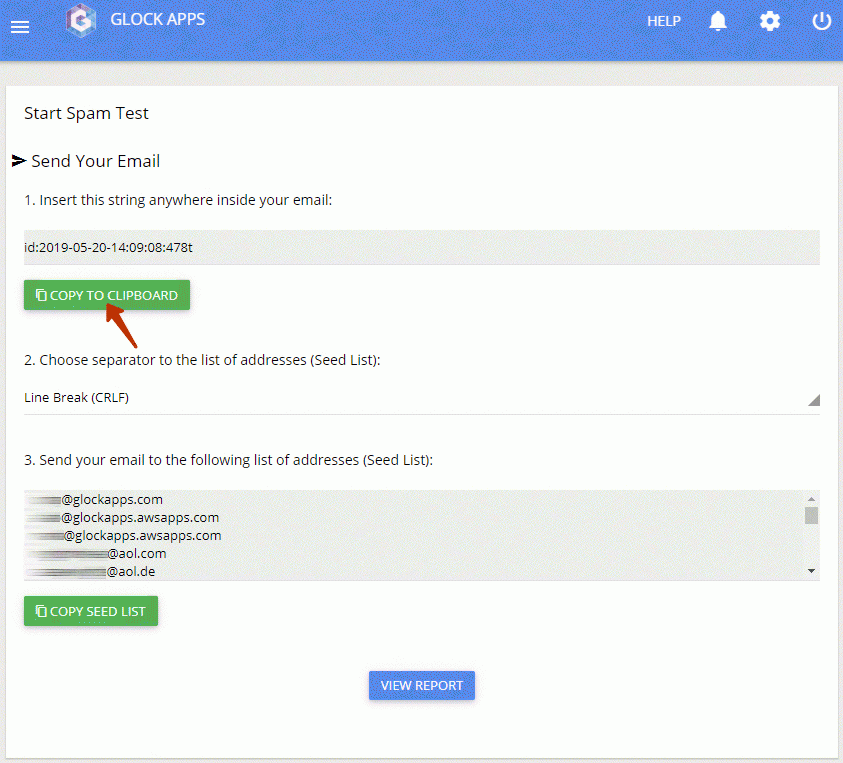 Go to your email client, create the message and paste the test ID at any place in the message body or in the Subject line.
This ID lets our system identify the email you send your seeds, so the outcome (whether it lands in the Inbox, Spam Folder, or never arrives at all) can be linked back to your GlockApps test results.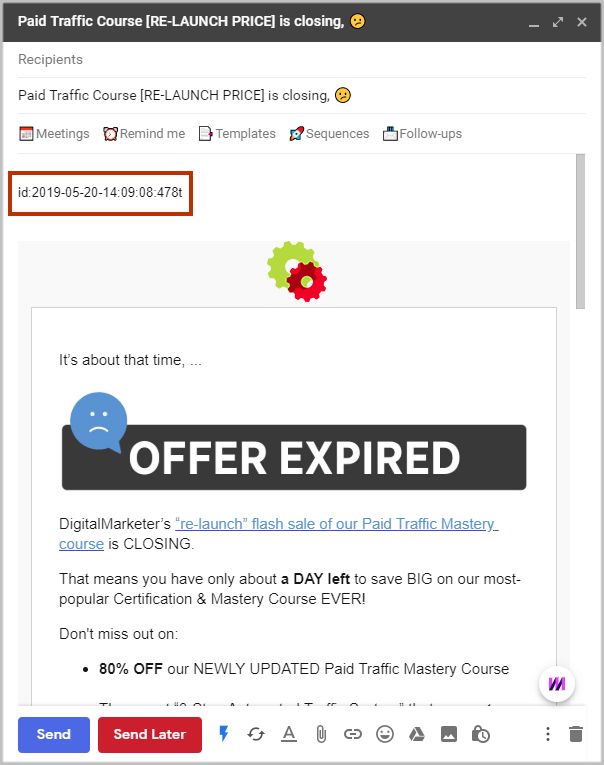 Go back to GlockApps and copy the seed list.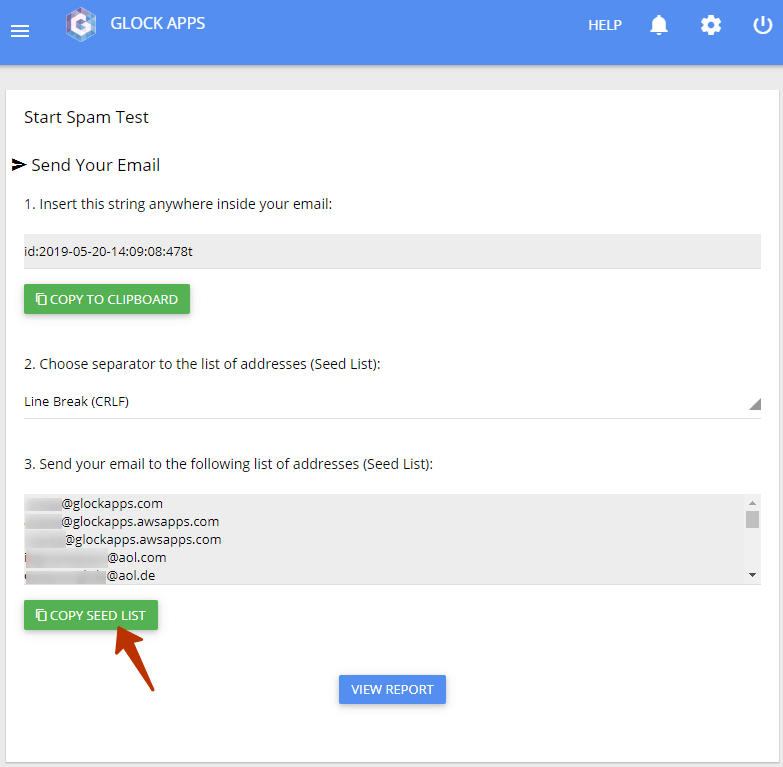 Paste the seed list into the To field or load the seed list into a new list in your email marketing software, application or ESP.
Send the email.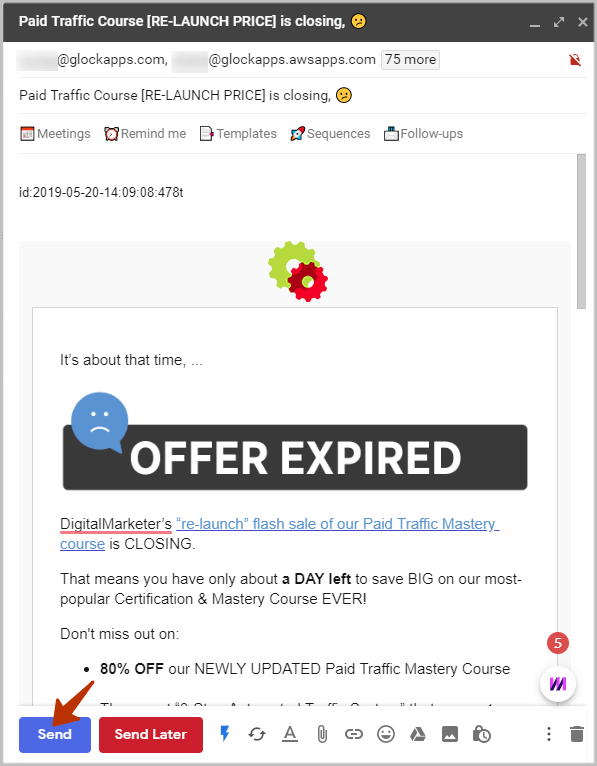 Be sure to use the same method that you normally use when emailing your real mailing list, whether this is from your private email server, an ESP (Email Service Provider), or from a personal email account such as Gmail or Hotmail.
This way your delivery test results will be accurate since you're reproducing the same conditions as when you email your real mailing list (both email content and sender reputation matter!).
3. Get the Inbox Placement and Spam Filtering Report.
Click "View Report" and watch the results pour in on the delivery test's page, in real-time.
The upper panel provides the results of your sender authentication, reputation, and spam filtering testing including the results given by the Google Spam Filter, Barracuda, and SpamAssassin filters.
At the right side of the report, there are small icons that allow you to get the seed list again if you need to re-send the message, view the message content and get the shared report.
When you click the "Share Results" icon, the report opens in a new tab in the browser. You can then copy the link of the shared report and send it to your mail server admin or email service provider or anyone you want to see the report.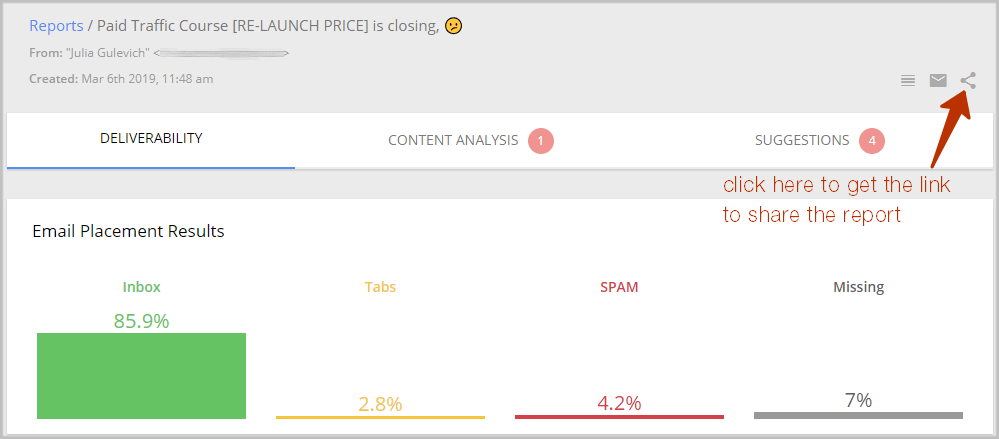 Not only does GlockApps show you the email spam score, it also explains why you got that score. It points you to the issues related to the message HTML code, images, links, and content. This advice helps you adapt your email's content to improve delivery and open rates.
Also, you'll see your Inbox rate, including deliverability to different tabs, spam rate, and missing (undelivered) rate. GlockApps provides you with the troubleshooting tips (suggestions) you can follow to fix deliverability issues and increase your Inbox rate.
The lower panel provides a real-time overview of the delivery test results as they come in for each major ISP (Gmail, Hotmail, Yahoo, AOL and many others). You'll see how your message is placed with each ISP, as well as where it is missing entirely. You'll also see the SPF check result, IP address used to send the email to each seed address, the IP sender score and blacklisting status.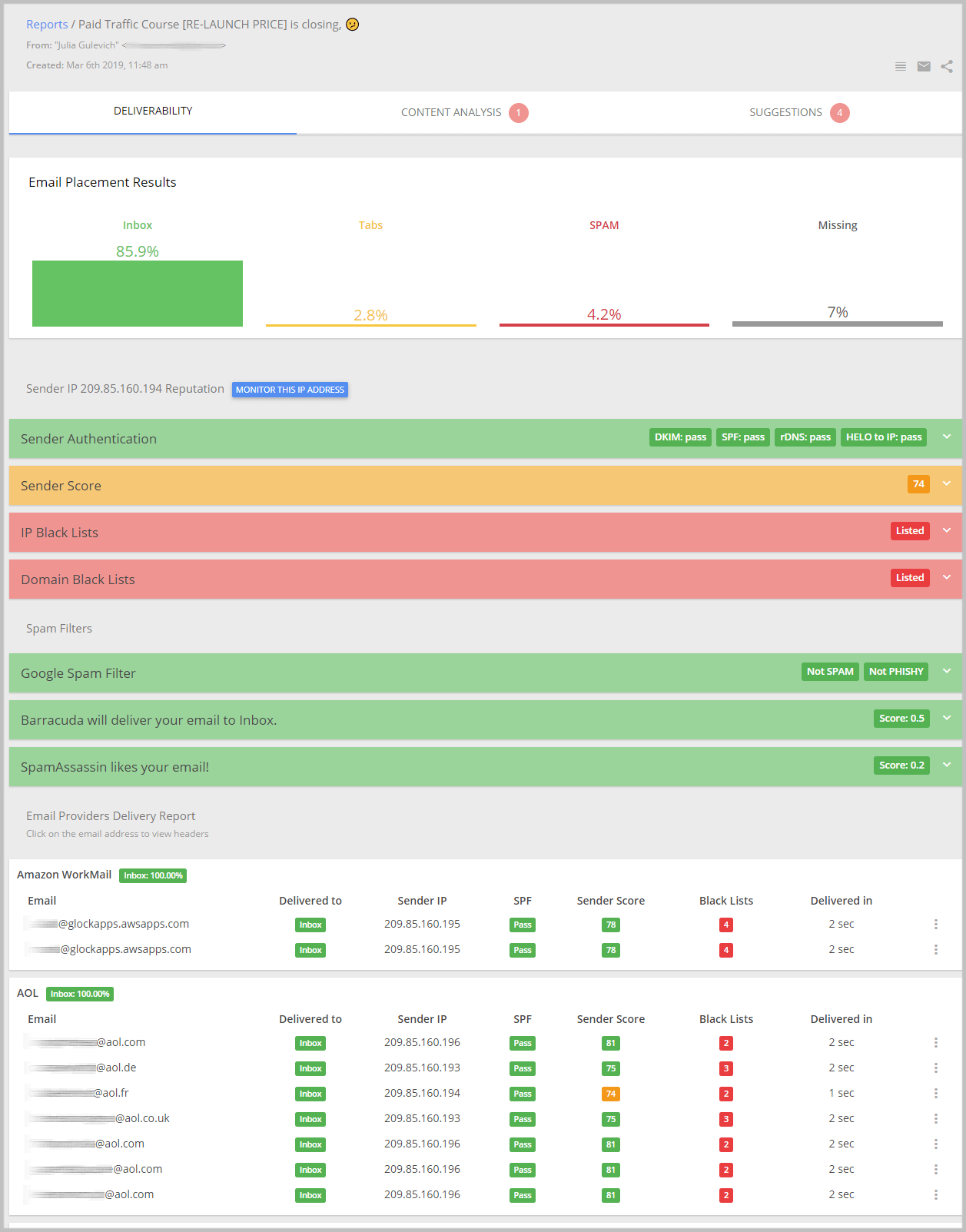 If you click on the three-dot icon at the right side, you can select the "View Headers" or "View IP Details" option.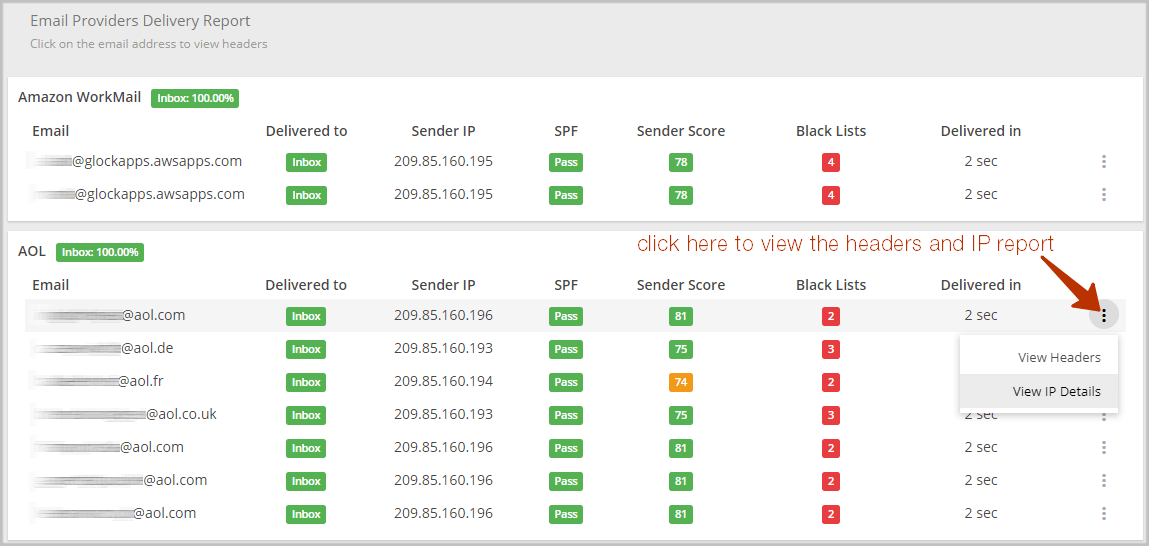 The message headers can shed some light on why the message went to the spam folder. In particular, the Authentication-Results header field shows if all email authentication records passed or not. The X-Microsoft-Antispam header for Microsoft accounts shows the Bulk Complaint Level (BCL) and Spam Confidence Level (SCL) that impact the email placement with the Hotmail and Outlook providers.
Selecting "View IP Details", you can see the IP address status against blacklists. If it's blacklisted, you'll get the URL of the blacklists where you can go and search for the removal instructions (it makes sense if you are sending from a dedicated IP address that you control).
Why is it important to differentiate the delivery rate and Inbox rate?
Let's say your email service provider is reporting 95% deliverability with a 5% bounce rate. It looks like 95% deliverability but it may be 70% Inbox placements and 25% spam placements. So, actually, 25% of your delivered emails did not reach the recipients. And emails that don't reach the recipients won't be read.
With time, your spam rate could be increasing and preventing your mail from reaching your subscribers. For some senders, this could mean thousands in lost revenue.
Therefore, you should pay attention to your Inbox placements and take steps to fix delivery issues to maximize your Inbox placement rate.
Delivery duration tracking is also essential. It helps determine if there is an issue with ISP throttling. Rather than blocking your emails altogether, some ISPs will delay the delivery of emails when the volume passes a certain threshold. This can be particularly harmful to time-sensitive promotions or important transaction emails.
We recommend running GlockApps email delivery tests regularly on your campaigns in order to identify and fix delivery problems before they come between you and your email recipients!
Let us know if you have any difficulties!
Important note!
Each ISP or mailbox provider stores information about the sender and outgoing mail servers used to send large volumes of emails to it. They track how the recipients engage with the received emails and over time each sender gains a reputation, good or otherwise. ISPs update their filtering algorithm on a regular basis depending on how they treat the sender at this time. In your GlockApps dashboard, you can see your current sender reputation and know if any of ISPs or popular filters are flagging your email as spam.
If you use any of the below email delivery services to send your email campaigns, check the appropriate tutorial to learn how to use your delivery service with GlockApps:
How to Test a MailChimp Email Campaign
How to Test a MailerLite Email Campaign
How to Test a Benchmark Email Campaign
How to Test an AWeber Email Campaign
How to Test an ActiveCampaign Email Campaign
How to Test a GetResponse Email Campaign
Read also:
How to Test via Dedicated Email Address
How to Find and Fix Email Deliverability Issues
Trackback from your site.