​How to Use EasyMail7 for Successful Email Campaigns

Delivering emails to the recipient's inbox is the primary goal of email marketing. If the email doesn't reach the intended receiver, then the whole marketing campaign will go to waste. When you hit the inbox, you beat your competitor's email that is lost in the junk folder or not delivered. With years of working in the email marketing industry, we at GlockApps have acquired the necessary experience to conduct successful email campaigns.
Let's take a look at a quick overview of the process and how to work with EasyMail7:
1. Email List Validation
Email list validation is the basis of a successful email marketing campaign. A top priority is to make sure recipients' addresses are accurate and contain no errors. There is always a human factor – misspelled names, wrongly typed, or missed letters – all the little things that make an email address a wrong one. That's why every email marketer needs an email list validation.
What is a Valid Email Address?
A valid email address is a deliverable email address.
Some email accounts may no longer exist, some may be disposable accounts, and others may simply be bot submissions.
The quality of an email list is one of the key things that determine the success or failure of an email campaign. That is why email addresses have to be validated.
How to Validate Email Addresses
We start by cleaning our list with our email verifier software. It links to the recipient's mail server and simulates the email-sending process. If the email address is real and the user exists, it is marked as 'good'. If the result is negative, the email address is marked as 'bad'. When the cleaning process is complete, we usually get feedback on each address if they are good, bad, unknown, catchall, or if they timed out.
To save time, we verify only users of free accounts. We export a list of free users from our customer base then run them through the verifier.
To protect our sender reputation, we export only the "good" email addresses. That is the list we send the message to. We import it in G-Lock EasyMail7 email marketing software.
To get the verification done quickly and accurately, we use the 3rd party email verification API key and IP address provided by the Swift Email Verifier company. If you want to try it, too, you can get the trial API key for 500 email addresses or buy a package for Email Validation API Server.
2. Email Delivery Test
Why Do You Need an Email Deliverability Test?
Many would argue that you could check whether your email will be delivered simply by sending a test message to your own email address. Unfortunately, this is not a professional way of handling situations, and the results won't be true-to-fact simply because it will show how your ESP behaves towards your emails, but what about others?
We want to be confident that our message is received by the intended recipients. That is why we test our email campaigns before they are sent out to subscribers. Email testing helps us identify delivery issues before the message goes out to the real list.
The main factors that influence email deliverability are:
sender reputation – a score created by every specific ISP and assigned to your company.
bounce rate – a percentage of email addresses that could not receive your message (emails that bounce back).
recipient's engagement – opening emails and performing the desired action.
We run the message through a spam test in G-Lock EasyMail7. It is integrated with GlockApps and allows us to do email testing instantly in just two clicks.
Once the process is done, we can see the delivery report: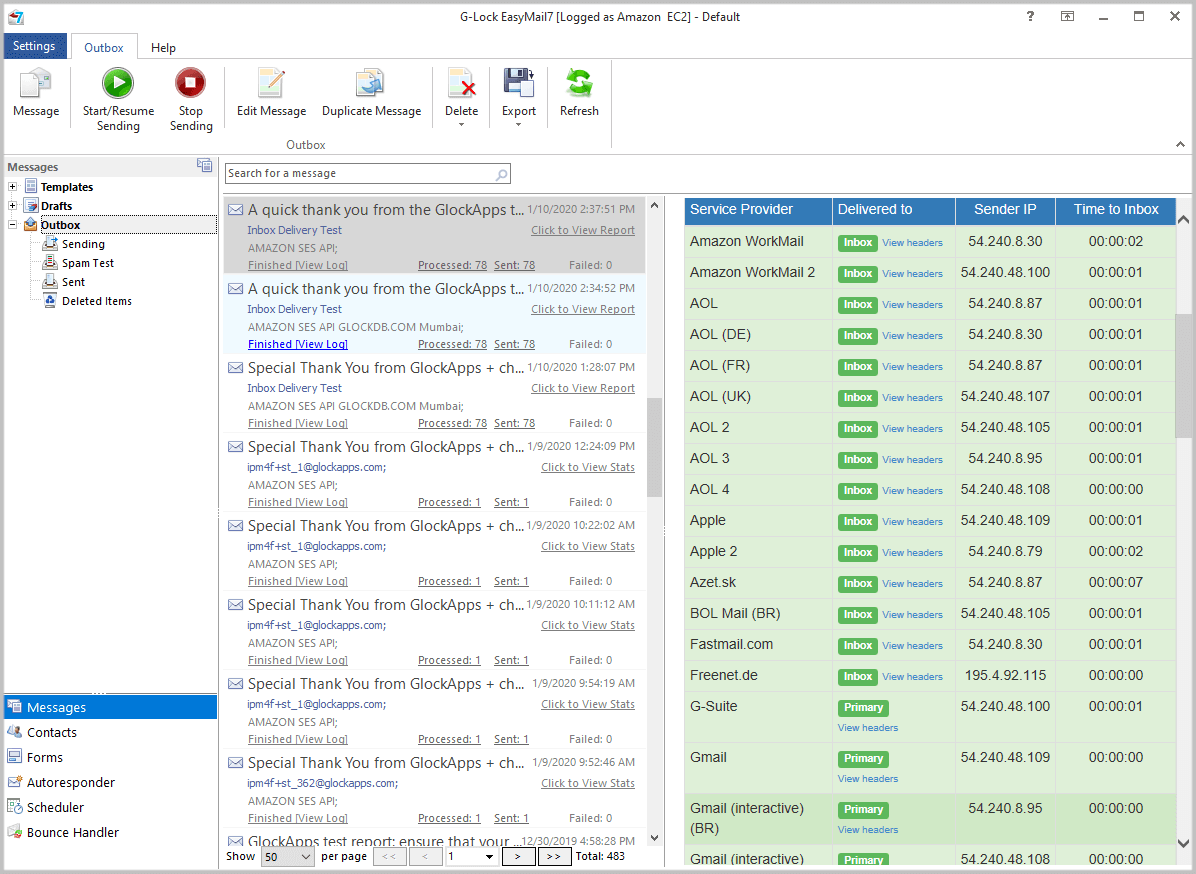 We make sure to check that the SPF and DKIM records passed and that the message has a good score with spam filters. We also check if the email got into the inbox of as many ISPs as possible. We often run multiple tests for the same message and test different sending accounts, subject lines, and templates for better optimization and delivery.
What Can You Learn from an Email Deliverability Test
Apart from giving you the answer to whether your email reaches the client's inbox, deliverability test provides you with more specific valuable information:
Is your IP address or domain currently on any blacklist;
Are you sending emails to spam traps;
Is there any content in your message that can cause spam filtering;
Are your SPF, DKIM and DMARC protocols working properly;
Which ISP's have high and low delivery rates.
Professionally performed email deliverability test is the key to a successful email marketing campaign because it gives you insights you will never receive by simply sending a test email to your own inbox.
How to Improve Email Deliverability
To improve email deliverability you need to look at both the technical side and content of your emails.
Keep a healthy mailing list

Make sure your list doesn't contain any old addresses and spam traps. Use double opt-ins and never practice purchasing email lists.

Implement proper sending infrastructure

Send messages from real email addresses, do not use 'noreply' addresses, set up authentication records to prove that your email can be trusted.

Send relevant content

Always think about the value of your message to the recipient. Irrelevant content will cause a spike in complaints and unsubscriptions.

Run deliverability test

Eliminate problems your email can encounter on its way to the recipient's inbox; cover issues after receiving test results and send a well-prepared campaign afterward.
Note, that G-Lock EasyMail7 provides help for sending emails, but it is your responsibility to create high-performing emails that won't damage your reputation or create spam complaints.
Read more: Email Deliverability Best Practices
3. Email Campaign Sending
Thinking about a new email marketing campaign first thing marketers do is concentrate on the idea of a message, the goal it has to reach, tone and voice of the email, as well as the value to the recipient.
Now let's concentrate on technical steps that ensure your well-crafted content will reach its destination.
How to Create a Successful Email Campaign
We have already looked at steps to improve deliverability: email authentication, healthy mailing list, relevant content, and deliverability test. What else do you need to concentrate on to have a successful campaign?
1. A healthy relationship with users
Always concentrate on engaged users. Don't try to send emails to all mailing list at once, divide your audience depending on their engagement level.
Make sure users subscribe. Use double opt-in to ensure recipients did not subscribe automatically; otherwise, later on, they might report your emails as spam.
Make it easy to unsubscribe. One-click unsubscribe option works best. No unsubscribe option is a sure way to be reported as spam or receive a complaint.
2. IP practices
Warm up IP first. If you aim to send considerable amounts of emails, start with smaller volumes and increase them at a slow pace, otherwise you will encounter deliverability issues.
Monitor IP reputation. This is especially important if you use shared IP. When you don't have control over the behavior of other IP users, you might face a decrease in reputation, which, in turn, will affect your deliverability rate.
3. Postmaster tools
If a considerable amount of your subscribers uses Gmail, Google Postmaster tools are a must for you. Monitor the performance of email campaigns and fix possible deliverability issues before you send emails.
Even if Gmail is not your biggest clients' ISP, making sense out of Postmaster Tools will give you general ideas and insights on how others operate.
Email Campaign Schedule
Another great feature available in EasyMail7 is setting up automated emails. Why do you need this option? In a nutshell, sending a sequence of automated emails is your opportunity to reach the right audience with the right content at the right moment in time.
It enables you to create content that presents value to the specific group of recipients: a series of educational emails, content that helps them solve their problem, how-to's of the product-related topics, etc. This strategy helps you build trust and loyalty of your prospects, create value for them and, consequently convert them into clients to increase ROI.
By automating your emails you won't have to spend so much time on manual work regarding emailing lists and scheduling messages.
To set up an automated email series in EasyMail7 you need to follow these simple steps:
Create automated email series, type in the email series name, chose whom to send emails to, what day and time should email be sent.
Add a message to your email series or chose one from available templates.
Configure settings by choosing an automated email series and applying condition when should the message be sent.
Activate automated email series by switching from 'off' to 'on' because by default created email series is inactive.
Read more: How to Send Automated Emails with G-Lock EasyMail7
How to Send Email Campaign
When the message is fully tested and optimized, we select the target group and send the message using G-Lock EasyMail7.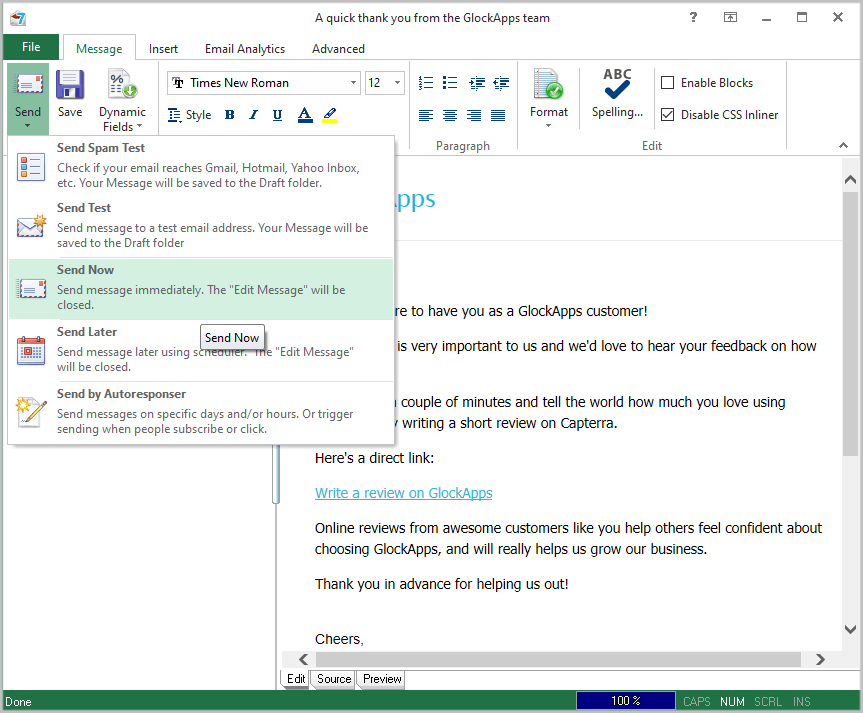 Now that we have covered how we do our own email campaigns, it's time to consider how you will send yours. Give your email campaigns the best chance at success by getting GlockApps + EasyMail7 today.